Social media giant Facebook was the brainchild of Mark Zuckerberg who launched the platform back in February 2004 with fellow Harvard University student, Eduardo Saverin. Whilst it was initially designed exclusively for Harvard University students, Facebook was soon rolled out to colleges across the USA and Canada and eventually made available to anyone with a valid email address, over the age of 13 in 2006.
11 Years on from its public release, it's now difficult to imagine a world without Facebook and it's estimated that 2.2 billion people are active on the platform worldwide. However, recently there has been much controversy surrounding the social network.
There have been allegations that the social media giant has exposed the data of 50 million users without direct consent. In addition, Facebook's moral position on connecting the wrong kinds of people has also been called into question.
While there is a distinct difference between using the platform on a personal level and as a business, the fact is that if people do delete their personal profiles, there will be no one left on the platform for your business to reach.
So, should you and your business still be using Facebook? We thought we'd let the statistics help you decide!
In Favour
> Website Quora reported that, "Mark Zuckerberg says he has not seen a "meaningful number of people" deleting their Facebook accounts in the wake of a scandal that caused users to question how well the social media site protected their data."
> Facebook is a great way to reach a targeted audience.
> 83% Of women use Facebook while 75% of men use the social network.
> 16 Million local business pages have been created as of May 2013 which is a 100% increase from eight million in June 2012.
> According to technology research company Forrester, 78% of teens online use Facebook. This is the same proportion as in 2014 and Facebook remains one of the more popular social networking sites, second only in popularity to You Tube.
Against
> There are an estimated 83 million fake profiles.
> 40% Of Facebook users have never "liked" a Facebook page.
> Facebook has played a significant part in the rise of Fake News as it tries to position itself as a news portal while continuing to promote freedom of speech. You can see where the lines become blurred.
> The newsfeed has now become so diluted that it's not considered a valuable source of information.
> There is an argument that Facebook can take traffic away from your business' website.
Make up Your Own Mind
Essentially no one can answer this question for you because each and every business is different. Even with the recent controversy, the network remains popular and even while some millennials now deem it "uncool" it's unlikely that we'll see a total boycott anytime soon.
Given the statistics above, it might seem crazy not to have a business presence on Facebook. However, it's worth considering your target demographic and whether this is the right platform to reach them.
Having a Facebook page is only really worthwhile if you're going to spend time updating it with engaging content. But what if the people who you want to engage with your content aren't there? It's worth considering if investing your time on this social network is worth your effort.
Security and data breaches aside, using things like Hootsuite can help save time with your social media posts, allowing you to simultaneously post to accounts on different social networks. Making it easy enough to keep your business presence on this platform and keep your page content ticking over.
If you'd like more information on how to set up a company page for your business on Facebook or if you require some other social media support, contact our team. You can email info@limegreenmarketing.co.uk or call us on 01600 891525.
What do you need to know about boosting posts?
Many companies use Facebook as a tool to engage with their target market and to drive traffic to their websites.
Before 2014 Facebook was the best platform to reach as many people as possible with the minimum amount of effort. Great! Times were easy, engagement was high.
But in 2015 Facebook reduced its efficiency, drastically! The reason was simple, developers realised that reducing the efficiency of Facebooks reach would encourage more people to pay for boosted posts.
Great for Facebook, not so great for the rest of us who were left scrabbling for a new social media budget.
Fast forward to today and, whilst Facebook may no longer be as easy to promote from as it once was, its boosted post option is still one of the cheapest and most effective ways to reach its one billion members.
Example:
The account below is an excellent example of the effectiveness of post boosting.
By targeting this post directly to their customers and providing content which is both useful, attractive and linked to their site this recruitment company were able to increase reach from an average of 250 to nearly 6,500. This boost also resulted in a peak in website visitors and therefore improved applications to this job.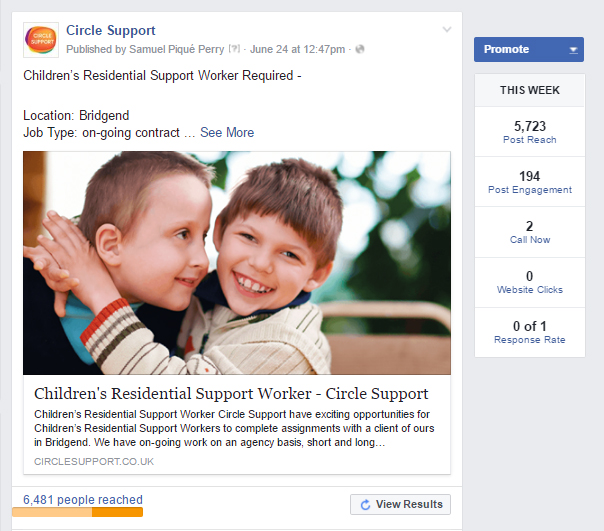 What should I boost?
Boosted posting is something which requires your direct attention, not simply because you want to make sure you are reaching the right people in the right way, but also because a mistake can really take a bite out of your pocket.
There are really only two types of post which warrant boosting with your cash, content which is rich in useful information, such as blogs or jobs, and existing posts which already have great engagement.
Boosting allows marketers to target specific customers by geography, employment sector and interests ensuring that your post appeals directly to your exact customer base.
When should I boost?
As with all aspects of social media timing is not only key but also completely subjective.
Go back through older posts and search for a correlation between the time of the post and the level of engagement.
Put yourself in the shoes of your target client, if they are teachers they may be more likely to be using Facebook during lunchtimes or evenings, whereas office workers are likely to have access to social media all day and start to surf later in the working day from 4pm onwards.
Be logical and gather data before you jump in.
Post boosting is certainly an advantageous way to target your customers and builds on Facebooks already beneficial structure to reach as many people as possible.
Key Points:
– Posts are eyecatching
– Posts link to a website
– Posts contain useful information or rich data such as video or imagery.
– Boosts are targeted effectively using the boost building tool
– Boost at a time which relates to your target market