Whether we like it or not, the Christmas countdown is well and truly underway. Some businesses will have had their Christmas marketing action plan finalised months ago, whereas others do their marketing following more of an 'on the fly' model. Whilst there is no one way that works for everyone, it's always helpful to know some handy tips for jumping on the Christmas bandwagon and boosting your marketing.
Pull on heartstrings
We've seen the TV ads at Christmas; the tear jerkers. If there's ever a time to get emotional with your marketing strategy, it's now. Whether you do something big as a company to support a great charity, or just generally do a little more storytelling and get heart-warming with your content, if you can pull genuine emotion out of your users, then you've made an impact.
Start at Black Friday
Actually, start at Halloween, but if that's a little early for you, Black Friday and Cyber Monday is the perfect weekend to add some Christmas offers. This year Black Friday is on 26th November and Cyber Monday is on 29th November. 31% of consumers in the UK begin their Christmas shopping in November, so Black Friday is more than suitable to start dressing up your offerings as Christmas gifts.
Don't go too far, though. The line between festivity and tastelessness is a fine one, so make sure you're really adding value with your offers. Christmas gift bundles, or a simple free stocking filler are great ways to add value.
Update your digital shop window
People travel for miles just to admire well-presented and jaw-dropping Christmas window displays. Your digital shop window should draw the same response. Updating your social media profiles and website in line with the holidays is a nice way to get your brand involved with Christmas.
Send out Cards
If you're a business that serves your offerings regularly to customers, you build up a rapport and relationship over time. Sending out a card is a simple way of reminding them that you value their custom.
Create an Advent Calendar
If you have an e-commerce platform and can afford to offer promotions every day for a month, then you could create an advent calendar. Anyone signed up to your mailing list could receive an offer a day throughout December (should they wish). This is an incentive for people to sign up to email marketing and will also include some very tempting CTA's (Calls to Action).
Depending on your already established brand image, you don't have to use every single one of these techniques or go over the top on the Christmas marketing. Christmas is however, the absolute prime time to up your presence, and not to be dismissed.
If you need any help over the busy period, we can offer short-term help. Get in touch and we can have a chat.
It's October, the summer is over but it's a little early for festive cheer, so what better way to fill the gap in your marketing plan than with a Halloween themed campaign? It sounds good, but for many small business owners it can seem a bit uncomfortable – how on earth could they link their business with Halloween? And why should they bother?
Simply because you can. Marketing for small businesses can get stale quickly with repetitive, predictable campaigns. By keeping your marketing flexible, and reacting to the season you can keep things fresh, and keep your customers engaged all year round. With that in mind, here are our top tips for a scarily good Halloween marketing campaign.
Keep it simple
If you are a small business, focusing on B2B clients, don't spend time trying to work out how to make all of your service offerings sound spooky! As you would with any campaign, keep the plan focused. For instance, if you are an accountant, you could just plan around 'making tax less scary'; or if you build websites you could offer one 'horribly good' deal for the week.
The same goes for B2C like hospitality and retail businesses. If you are a restaurant owner, you could have a spooky-themed menu for one week, or some Halloween themed cocktails; or in a retail store you could choose one small group of products to promote using your Halloween theme…which brings us nicely to…
Choose a theme
No, Halloween is not a theme – it's too broad! If you choose a more specific theme, like scary movies, or Frankenstein's monster, or even pumpkins – it will help all of the planning go a lot quicker and help you create a more coherent campaign. Step one is what you are promoting, step two is how you'll promote it.
Don't just decorate your campaign
Don't limit the Halloween theme to your campaign-related graphics and print work or it will feel completely out of step with your brand. If you have a physical location that customers come to, like a shop or restaurant, then get to work on the Halloween décor. If you are online only, you can get creative with your social media graphics, website banners, or even a temporary themed logo or profile picture. By spreading the theme subtly across all of your marketing, you will make it feel less jarring and more part of the bigger plan.
Plan where and when to reach people
The next step is to plan out your campaign and include all of your marketing channels (e.g. social, email, video, website, direct mail, POS etc.) then plan the frequency of contact on each. Don't go overboard with lots of extra posts or emails as you'll frighten more people away than you'll attract.
Get creative
Just because Halloween isn't an event that you automatically associate with your business, doesn't mean you can't have some fun with it! Halloween is a fun time of year when you can get away with things being a little messy, so embrace it and test out some fun new ways to market your products.
If you'd like to speak to one of our team about how we could help you create a spooktacular Halloween marketing campaign, you can get in touch here. Alternatively, pick up the phone and call us on 01600 891525 – we'd love to hear from you!
Advertising your small business is stressful – with so many choices and, usually, so little budget how do you choose which channels to use and where to spend your money? It is important to find the answers, as knowing how to promote your small business in the best possible way sets you on the path to growing your market and expanding your reach. Reaching the right audience, in the right way, at the right time is the key to successful marketing, and it is different for every business, but there are some general things that can help.
Here are 4 free and 3 paid ways to advertise your small business in a crowded market.
Free Marketing Ideas for Small Businesses
Social Media Marketing
LinkedIn, Facebook, Instagram, Twitter, Pinterest, YouTube, TikTok – the list of social media platforms goes on, with Wikipedia estimating that there are over 130 different ones to choose from now! The key to using social media to advertise your small business is choosing the platform that your customers are using most, and then updating your page regularly. The only cost to a successful social media marketing campaign is your time investment.
Email Marketing
If you have a list of customer (or potential customer) email addresses, using them wisely is a great way to market your small business. Send out helpful articles, sales messages, and rewards to those who sign up and you will create a faithful following that will convert as well as your social media audience, or even better!
Website Marketing
Don't overlook your website. If you are doing all this work to drive people to your website, you need to make sure it converts them into leads. Make the most of your data and analytics to ensure that it is working as hard as you are. Search Engine Optimisation is another great way to make your website do more for your business. By optimising your website to be found in the search engines you can increase the number of visitors, and with no direct costs, your only investment is time and energy.
Content marketing
Another fantastic way to market your business is by creating valuable content. This could be blog posts, videos, and even podcasts. It is a great way to express your brand's personality and help you to find new customers. It can also support your social media and SEO work, so it's a great option to use in combination with the other free marketing ideas we've suggested above.
Paid Marketing Ideas for Small Businesses
Paid Advertising on Search Engines
PPC (Pay-Per-Click) marketing is a really effective way to market your business as it allows you to send your message to a highly targeted audience and set a tight budget. Google Ads and Bing Ads are the most common, and each gives you a chance to test multiple adverts and campaigns to see which performs best for your goals.
Social Media Advertising
Instead of relying on organic growth in your social media profiles and pages, you can create very visual social media adverts and display them to a highly targeted audience. As well as giving you the opportunity to reach a wide number of people for a small budget, the advertising options on these channels give you access to a huge range of in-depth data which can help you to make future advertising decisions.
Remarketing Campaigns
If you already have a bank of customer data or have run successful paid campaigns in the past, then remarketing is a great option. Remarketing is usually a cheaper option than other paid marketing options, and has a higher conversion rate.
Whatever your budget, whatever time you have to invest, there is a marketing solution for your small business. Take your time, make a plan and good luck!
If you'd like to speak to one of our team about how we could help you attract new customers with catchy and clever advertising tactics, you can get in touch here. Alternatively, pick up the phone and call us on 01600 891525 – we'd love to hear from you!
With students graduating this summer, we've been giving careful thought to the essential skills Marketing Companies look for when recruiting graduates. And we all agreed that it comes down to a combination of academic ability, soft skills and sheer determination!
'Academic Ability'
It's not just about getting a First or 2:1 – employers are going to be looking for evidence of your ability to problem solve, understand complex information, work as part of a team, multitask and work to deadlines. Phew, that's a long list and you thought it was just about writing essays. Make sure you show how you've developed these skills whilst studying or gaining work experience.
Working in Marketing is often all 'hands on deck' so having good IT skills is also important. Knowledge of packages such as Photoshop will enable you to create an image for a post quickly. Equally, understanding basic HTML / CSS so that you can make a quick amend on a website will also help your cause.
'Soft Skills'
This is an industry all about communication so great skills in this area are a must. Marketing involves a lot of writing; blog posts, press releases and pitches, so good writing, spelling and grammar skills (please, no mistakes on your CV!) are critical. Interpersonal skills are also key. You'll be working with a team so evidence of work experience, or involvement in events or committees all help to show you have a good grounding in this area.
You will also need to show that you can think creatively. You don't need to be an artist, just show you can 'think outside the box'. For a start, don't just send in yet another standard CV – be creative to stand out. Different paper textures, infographics, layouts – be distinctive. Can you show how you took a different approach to solve a problem?
Sheer Determination
It goes without saying that an interest in people and an awareness of the world around you is vital, Marketing, after all, is all about understanding people's aspirations and challenges to foster relationships. Be aware of what's going on in the news and read widely.
As a new Graduate, nobody is expecting you to have loads of specific company experience but you can demonstrate your skills by marketing yourself.
Get involved with the marketing of a College Club or local event.
Show you can write by having your own blog or contributing to a magazine.
Be visible on social media – show your understanding of the essentials of social media but carefully consider what you post and choose to share as more and more employers will check these channels.
You've got yourself an interview? Congratulations! Make sure you're prepared. Do your research on the company and the marketplace they work in. Read trade publications, press releases and immerse yourself in Google Search! What about marketing campaigns that have caught you eye, why was that? What's memorable and what was a real stinker – again why? This shows prospective employers that not only do you have a commercial awareness but also are happy to create your own opinions.
Additional Study
Another option is to keep studying! A professional Marketing qualification or a postgraduate course will certainly add to your academic portfolio. Ideally though, it is worth getting some experience with the different aspects of marketing before taking the plunge. Many in the marketing industry will take these courses whilst working to further their promotion prospects.
The Chartered Institute of Marketing (CIM) offers an Introductory Certificate in Marketing. This can be followed at a later stage by other qualifications leading to chartered status.
The Institute of Data and Marketing (IDM) also offers a variety of qualifications for both graduates and industry professionals ranging from masters and postgraduate degrees to professional diplomas.
You can also find affordable online marketing courses on sites such as The Digital Marketing Institute, Hubspot, Coursera, and Copyblogger.
All we can say is good luck! It's a great industry to work in!
Like hiring staff, outsourcing is never an easy decision for a business owner to make – there are lots of things to weigh up and consider. So when you do finally decide to take the plunge and outsource to a marketing agency, it's worth making sure you are doing everything you can to make the partnership a success.
STEP 1. Decide what you will be outsourcing
As well as defining your budget you need to decide what marketing you can (and should) keep inhouse. It's important to be realistic about your resources and your talents. If you aren't sure what you can handle, then you should be honest about this when you start to engage with agencies.
STEP 2. Choose your stakeholders
The easiest way to get the best out of your relationship with an agency is to make it clear who will interact with them and who will be required to approve budgets, outputs and anything else. Clearly defined roles are key to success so nail it down before you do anything else.
STEP 3. Choose the best agency for YOUR business
Just because an agency is the biggest in your city, or has won the most awards, does not mean that they are the right agency for your business. When you are hiring staff you have criteria that an interviewee must meet, so set similar pointers before you interview an agency. Engage with a few companies and choose one that you feel a connection with, that you trust with your brand, and that offers the services that you need.
STEP 4. Set Expectations
If you've told your agency that you want to increase your social media presence and then you end the contract with them because your sales are the same…you are at fault. You need to set expectations for what you would like to see done, and what results you would like to see from that work (these may not marry up, but a good agency will advise you on strategy…we'll get to that in Step 5!).
STEP 5: Make the contract strategy driven instead of task driven
Tasks checked off a to do list is not going to generate business. If your agency knows why they are doing something, what the goals are, then it will be much more effective. A good agency will help you create a strategy and plan the actions to achieve it rather than taking a list of actions with no reason.
STEP 6: Keep on top of the results
Reviewing the results of marketing efforts is crucial to the success of any team – inhouse or outsourced. An agency will be able to report on everything in detail that they were involved in to show what worked, and what didn't so your next marketing decisions can be evidence based.
Finally – Have respect for the agency
The team members within a good marketing agency live and breathe their profession, so if they advise you that your ideas for a campaign will not bring good results, don't dismiss them before hearing their reasons. Respect that you have brought in experts who know more than you and listen to their suggestions.
After all to quote Steve Jobs…
Great things in business are never done by one person; they're done by a team of people.
If you're interested in talking to our team about how we could help you step up your marketing in the second half of 2021 we'd love to hear from you. Contact us here for more information or give us a call on 01600 891525.
How can a smaller company hope to compete in their industry when they are at such a big disadvantage when it comes to marketing?
Larger companies have big budgets and a greater number of staff dedicated to all aspects of the marketing process: From advertising, to customer service, and even production. For smaller companies, they don't have the same luxuries – budgets are vastly smaller and usually a lot of the work must be done by a handful of people, or even fewer! In order to grab the public's attention – and hold onto it – smaller businesses must be more creative in their approach and offer a unique selling point in the hope that they can beat the big guys at their game.
So, what can you do?
SOCIAL MEDIA
Social media can be a great platform for exposure whatever size you may be; it is relatively inexpensive and can reach a vast number of potential customers quickly. With different platforms to choose from, you can use them all for different purposes.
LinkedIn has 756 million members, is specifically a business and professional network and is uniquely suited for B2B lead generation. It enables you to easily target, connect and engage with your target audience. If your business offers a solution to your customer's needs, LinkedIn is the best environment for attracting their attention.
Twitter is brilliant for interacting with other people and can be used for customer service; this is a method that has already been adopted by many companies.
Instagram specialises in photographs – this can be ideal for showing off the visual aspects of your business: different products; the views from your B&B or glamping pod. Social media can also allow other forms of interaction – invite them to post photos of themselves with your product; have a hashtag and offer a reward. You could even run competitions.
VIDEO
Not everyone wants to read an article about a product; maybe the individual does not get the same feeling or experience from written words that they require to make a purchase.
Millions of videos are viewed daily on the internet, and this can be a great avenue to expose your products and business.
Consider uploading a video of your product, like a demonstration or being used by a model, to your website or a social channel like YouTube. Or you could make a virtual tour of your restaurant, holiday let, office or workshop. The visual effect of your product could be more enticing to your potential customers, and you can help increase trust by being part of the video yourself.
Allowing your customer to see the face of the business can bring about a more personal touch, and a lasting impression – you could even go viral!
CHANGE WITH THE SEASONS
Consider taking a seasonal approach.
Throughout the year, there are various holidays and events, that you could use to inspire you. Food and drink-based companies can capitalise on holiday days like Valentine's Day – bakeries offering sweet treats; restaurants selling special offers for couples. Change menus to suit the summer weather; BBQ offers; sell cocktails or mocktails.
Adapt your products to seasonal change: Sell hot drinks and baked goods in the winter; cooling drinks and ice cream in the summer; anything with pumpkin spice in the autumn! Run vibrant swimwear campaigns during the summer holidays or winter campaigns that position hats and scarves as great gifts. A Christmas Countdown, with Black Friday incentives – whatever your business, seasonal promotions can boost your creativity and your sales.
Just because you don't have a big budget, doesn't mean you can't be creative with what you have. Work out what matters most to your customers and support them in that, and never underestimate the power of the personal touch.
If you're interested in talking to our team about how we could help you induce some creativity into your marketing we'd love to hear from you. Contact us here or give us a call on 01600 891525.
Your brand is more than your logo or your name; it should be the whole experience that your customers and potential customers receive when they come in contact with your business. Your brand strategy is the definition of what your organisation stands for – its values, the promises you make to your customers, and the personality that you deliver your work with. Yes, it includes your colours, fonts and logo, but it also has something more than these aesthetic elements, it has your tone of voice, attitude and identity.
A successful brand strategy is the key to you being able to communicate more effectively with your customers and potential customers. It should direct all of your interactions with them, and shape how you are perceived in the marketplace. You should carry out a brand strategy as the very first stage in setting up your business – before you even come up with a company name as it can inform all of the decisions you make from day one. So what are the core elements of a successful brand strategy?
Your Target Customer
It is the crux of all marketing and sales techniques – it's easier to hit a target if you know where it is! In order to build a brand strategy, you need to know who it is supposed to appeal to. You should know what your customer needs, and how you solve that problem.
There are many ways of defining your target customer. Some businesses like to focus on an area of interest, or a geographic location, whereas others define one or more very detailed customer avatars. If you are already trading, look back at your customers to date and use what you know about them to help inform your strategy going forward.
Your Competition
Who are your customers considering alongside you? Who are you being measured against? Once you know this you can look at how your competitors are positioning themselves in the marketplace and make decisions on where you measure against them. Will you stand out or blend in? What sets you apart? Remember, you don't need to focus only on your local market, look at your national competitors to see how they are positioning themselves.
You
The final element is the biggest of all – who are you? In order to create a successful brand strategy, you need some self-awareness regarding your business and its products or services. This should include the absolute basic information about what your business does and how it does it, as well as more 'intangible' information, for instance, the emotional benefits that your business provides.
Brand Strategies tend to include your brand story, and positioning statements that will inform how your staff speak to your customers and how you interact with people on social media and other public forums. All of these things are developed through a combination of knowing and understanding your target customer, your competition, and your business. So start with the basics and it will grow from there.
If you're interested in talking to our team about how we could help you create a winning brand strategy we'd love to hear from you. Contact us at info@limegreenmarketing.co.uk or give us a call on 01600 891525.
When lockdown lifts it will not be as simple as throwing open the doors and buying in fresh biscuits! Things won't go back to normal on day one, and you are bound to have a lot on your plate, so why not use this time at the end of lockdown to give your business a 'Spring Clean'?
If you Spring Clean your home you clear out the clutter, freshen things up and get ready for a brighter and warmer time to come, so why not apply the same principles to your business? Here are our top tips for getting your business organised, and making some easy improvements before things get busy again.
Clean up your inbox
With everything else going on in your business it's easy to let emails pile up. If you are flagging more than you are actioning, now is the time to clear the decks, get everything filed away and tidy your 'to do' list before the phones start ringing again. We understand that filing emails is not a pleasant prospect, and it is far from a fun task, but it will feel like a weight has lifted when you get it finished. While you are at it you might try tidying your folders and computer files so you can start back knowing where everything is, and having up to date back-ups of everything important.
Hunt down your strategy
If your business plan, marketing strategy or 5 year plan has been hiding on the top shelf over the last 12 months now is the time to look it out. Revisit your goals, actions and overall direction and see what still applies and what needs to change. Now is a great time to refresh that vision and start to get excited about the year to come.
Dust down your finances
Even the most well-organised of businesses can end up with a box of receipts lying on a desk gathering dust. If you are making plans and budgets, you need the most up to date information to hand, so now is a great time to review your accounts, sort your expenses and save yourself from any nightmares in the coming months.
Freshen up Your website
If you haven't looked at your website in a while, you are not alone. As your business grows, or pivots or changes, your website should move with it. Don't let an out of date website damage your brand. If you aren't able to do the changes yourself, you can at least make a to do list to pass to your developer and marketing team.
There are probably plenty more areas you will be able to think of to freshen up your business that you've been avoiding during lockdown. Spring cleaning and decluttering can make you feel lighter, more organised and less stressed, so why not give it a go?
And remember there's support available to help you if needed. If you're interested in talking to our team about how we could help you spring clean your brand image or revive the digital side of your business we'd love to hear from you. Contact us here for more information or give us a call on 01600 891525.
While our team are all pretty used to working remotely, we know that some of you will be making the most of your lockdown days at home spring cleaning, cooking, reading or perhaps wrapping up warm in a blanket and binge-watching your favourite shows on Netflix. Another option could be wasting time on the internet.
It's rare that any of us get the chance to just sit and surf at our leisure these days. So, we thought we'd share with you a few of our favourite websites. Each has been selected for a different reason and is wonderful in its own right.
Lush
Lush specialise in fresh handmade cosmetics. You may have seen – or rather smelt – one of their stores on the UK high street. Founded by Mark Constantine and Liz Weir in Poole, England, the company sells natural hair and beauty products which are all handmade in their factory in Poole, Dorset. Lush pride themselves on their brand values, which include being 100% vegetarian, not testing on animals, ethical sourcing of their ingredients and naked products (minimising packaging where possible) to name just a few. Here's why we love their website.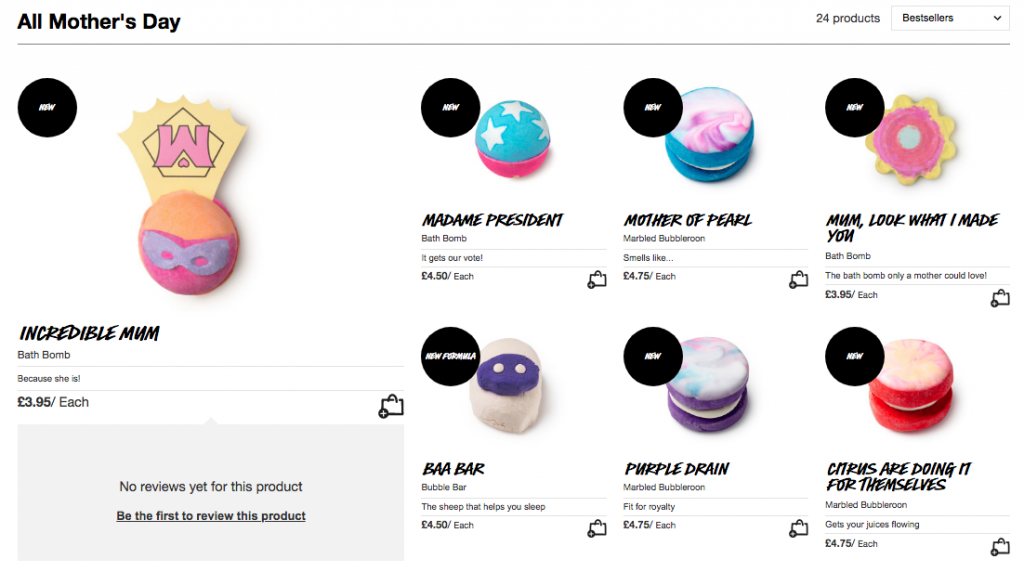 The homepage of the website is always updated with seasonally relevant products and campaigns including beautiful videos of products in action!
The design of the website is simple and clean which really maintains the focus on the products and makes the product imagery stand out.
Brand values and messages are clearly communicated throughout the site helping instil brand identity and customer confidence.
Information is shared but not in an overbearing way with snippets being shared throughout the site as you shop.
Customers can shop by ingredient while learning about the natural benefits and qualities of each one!
They have online exclusives to keep in-store shoppers engaged with their website too.
BuzzFeed
It's highly unlikely that you haven't stumbled across a BuzzFeed article in some way, shape or form by now. BuzzFeed is an independent digital media company delivering news and entertainment to people around the world via its website, apps and social media channels. The organisation claim, "We strive to connect deeply with our audience, and give them news and entertainment worth sharing with their friends, family, and the people who matter in their lives." And that's just why we like them! The perfect website for killing time on your mid-morning coffee break or learning things that you probably don't really need to know, BuzzFeed is packed full of news, videos, quizzes, recipes and much more. Here's what they do well.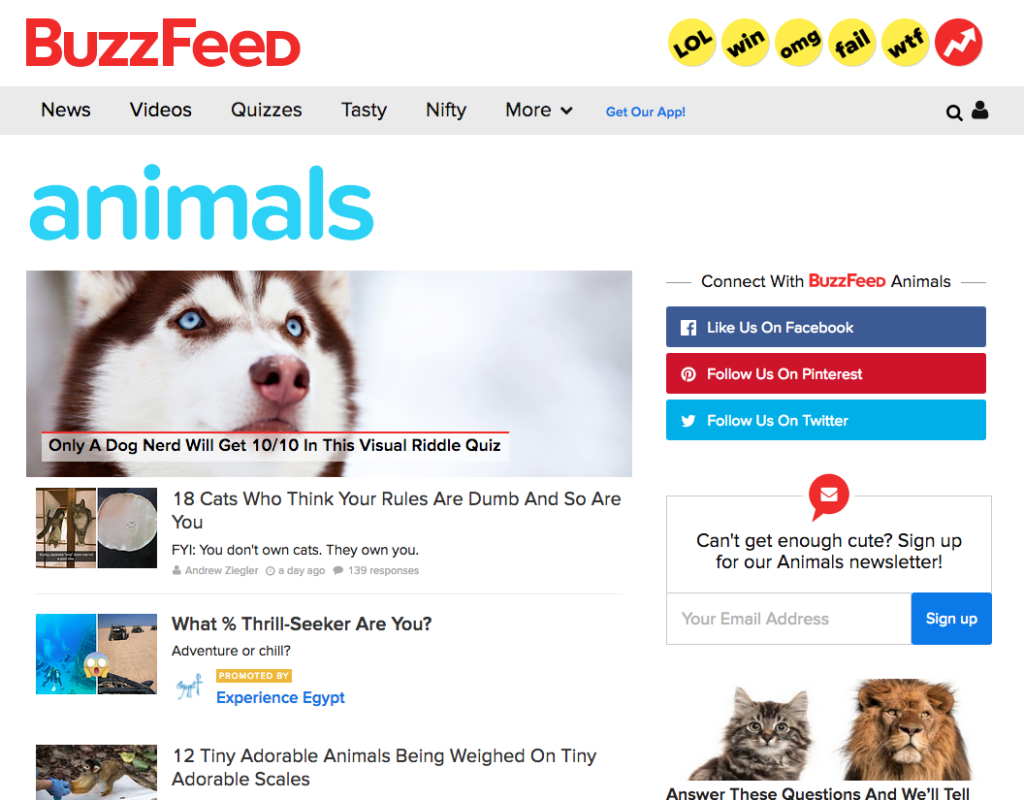 Light-hearted content. While you'll find serious stuff on here too, if it's a break from the doom and gloom of the world that you're looking for, you've come to the right place.
Cross channel integration. For BuzzFeed social media is an equally important way to reach people and they've got this down to a fine art.
It reads like a newspaper. The simple journalistic design of the website makes headlines pop and encourages click-throughs to articles.
They have a quiz called

"Do You Actually Prefer Chocolate or Cheese?"

!
Not on The High Street
If you've ever been looking for a one-of-a-kind gift for that friend or family member who is just so tricky to buy for the chances are that you've visited 'Not on The High Street'. Founded ten years ago, the brand aims to bring together "unique, stylish and never-before-seen products that are hard to find anywhere else". They are home to more than 5000 of the UK's best creative business and have a fantastically functional website to showcase them.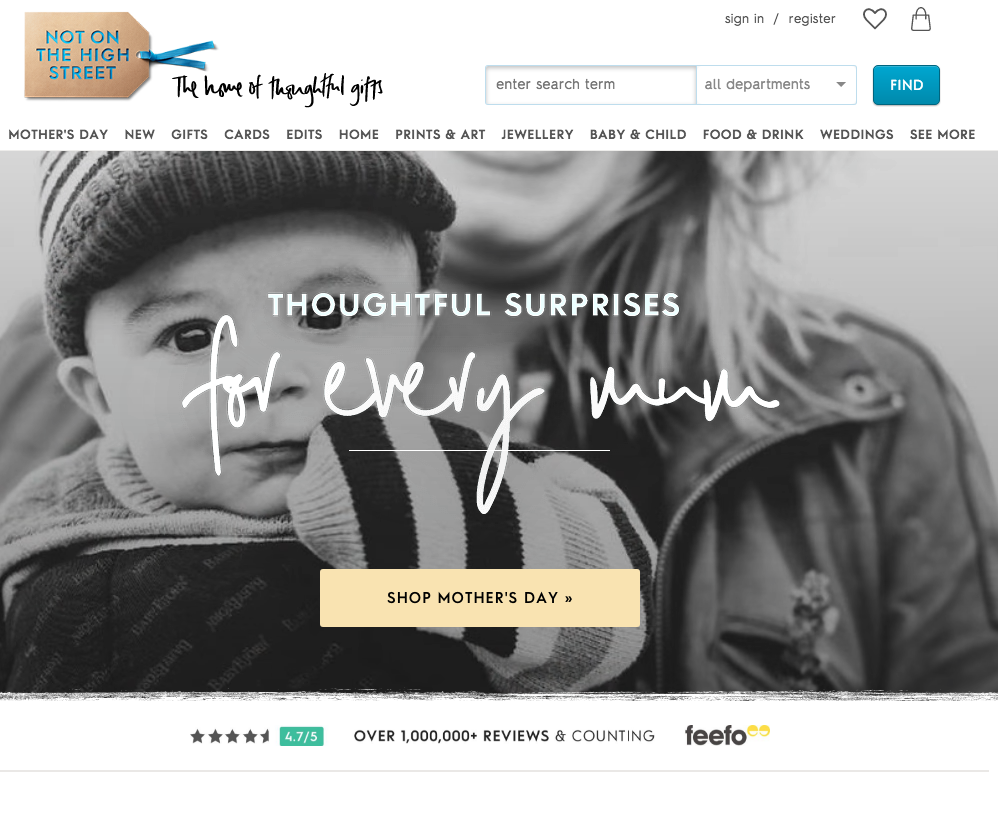 This website is particularly easy to shop with users being able to search by occasion, gift recipient, category or a specific key word search.
An extensive range of filters allow users to narrow down their options easily by price, personalisation, colour, size and special features.
The design is simple and doesn't detract from the products.
Product imagery is of the highest standard and stylistically consistent.
Seasonal features on the homepage help plant new ideas for shoppers to consider, creating the opportunity for additional sales.
Magic Seaweed
Magic Seaweed has a very specific following. With surf reports, surf forecasts, web cams and surfing photos for spots around the globe, it's the go-to place on the internet for the surfing community. While it's a niche website tailored to a very specific interest, here's why we think it works so well.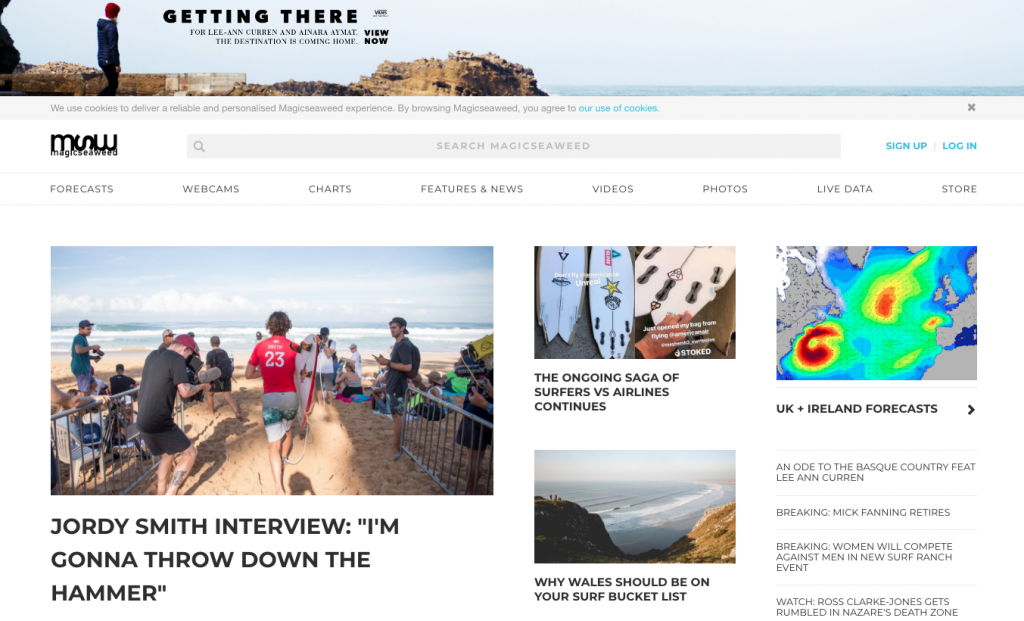 The website design itself is simple and while it contains lots of different types of content it doesn't feel cluttered.
The menu is clear, always visible and easy to navigate, enabling users to find what they're looking for quickly.
Magic Seaweed have found a way to include informative content like weather charts and articles, alongside visual media like videos and photography, which somehow all work in harmony to create a great overview of the community and the sport.
They have successfully included an eCommerce facility on their website which somehow feels like an extension of the website rather than a standard online shop.
The British Fashion Council
www.britishfashioncouncil.co.uk
The British Fashion Council (BFC) is a not-for-profit organisation that aims to further the interests of the British fashion industry and its designer businesses by harnessing and sharing collective knowledge, experience and resources of the sector. It focuses on business, reputation, education, digital and investment so it's website needs to strike the right balance between visual content and information, as it serves as a resource for industry professionals as well as representing what's currently happening creatively.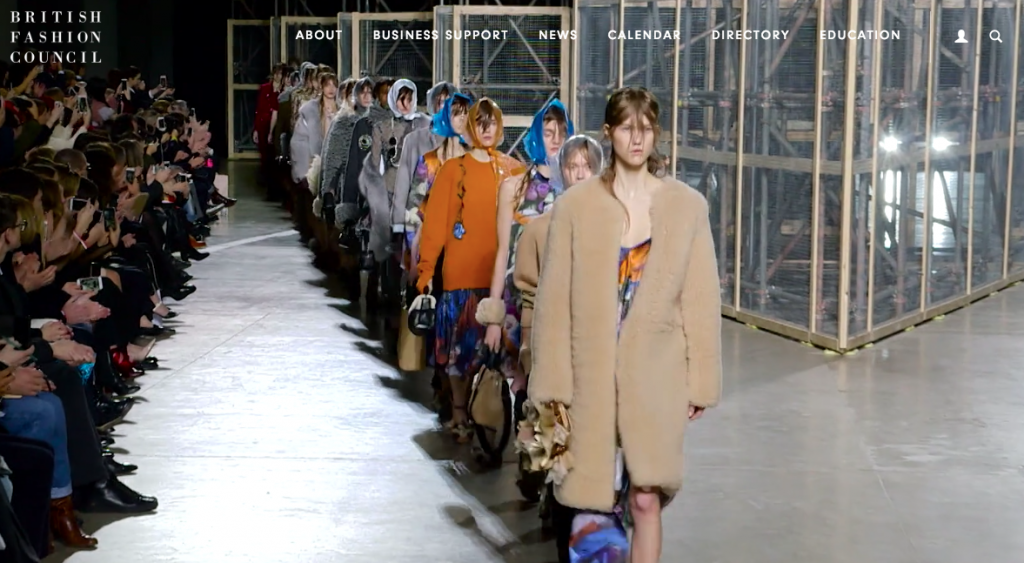 The homepage of the site is instantly interesting and engages the user with a full screen video without compromising the navigation menu.
The design is fit for purpose. Fashion was designed to be showcased on moving models and this has been captured in the website.
Information is easy to find and resources are well organised.
Are you feeling inspired and thinking of setting up your own website? Perhaps you need to inject some fresh thinking into an existing one? Get in touch with our team and find out how we can help. Email info@limegreenmarketing.co.uk or call us on 01600 891525.
A customer profile or user persona is a useful tool to help you understand your customers and their behaviours; to understand their needs and wants, so that you can drive sales by connecting with them in a personal and effective way.
Years ago, digital marketing efforts were put together in a standardised way and basically sent out to the masses, with no personalisation or targeting involved. Today, the sheer volume of analytical and data tools available make it possible for us to really refine our marketing efforts. Marketing today is all about providing a 5* experience to our customers. And to do this means that we need to understand what each of our customers need.
So, this is where user personas come in.
What is a user persona?
A user persona is a fictional, visual representation of your ideal customer. A persona is generally based on customer research and includes the needs, goals, and observed behaviour patterns of your target audience types.
Put simply, a user persona is a set of characteristics that you put to the ideal kind of people who would purchase from your business offerings. A thorough and data-driven user persona can be the key for your business to build more impactful strategies and even assist in the development of your product and services to fit these profiles.
Here's our guide on building a user persona, to help in gaining a deeper understanding of the customers you want to attract and how they may act
Step 1: Create a general outline of each kind of ideal customer. What do they do? What's important to them?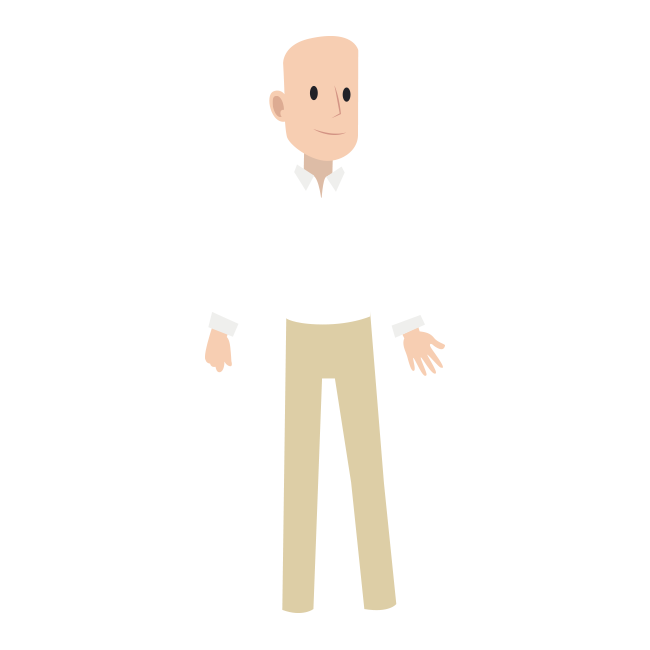 At this stage, you will give each type of ideal customer a name, job title, and outline their interests and attitudes towards general products/services in your industry.
Here, you will outline what is obvious about them that means your product/services will benefit them or solve their needs.
Ask yourself:
What are their values?
Do they match your business values?
Do they already use a product/service that your company offers?
If so, are they happy with this product? What does your offering bring that could convince them to switch?
What is their attitude towards products and services like yours in the market?
Are they open to your products and services or is it something that they are apprehensive towards?
Step 2: Enhance each customer persona with unique goals and important features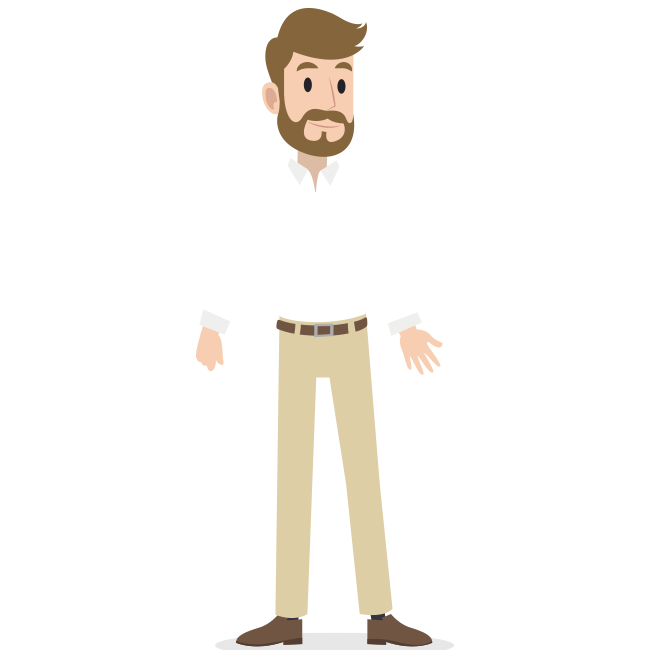 The next step in building your customer profile is where you will begin to add more detailed information. At this stage, it's important to identify the needs and goals of each customer type, and what features could affect their willingness to choose your business.
Answer these questions:
What kind of language would each customer use to identify their problem?
Understanding this means the language that a customer uses to describe their problem can be replicated in your copy.
What is each customers biggest hesitation when thinking about trying out your product/service?
Understanding your customers hesitations will mean that you can resolve these before they dismiss choosing you because of them.
What is the most effective way to engage with each customer?
Everything considered so far in the profile building process will allow you to consider what will be the best way to engage with each customer type. Including how to talk to them and how to answer/resolve their questions.
Step 3: Assess how and where each customer type will find your business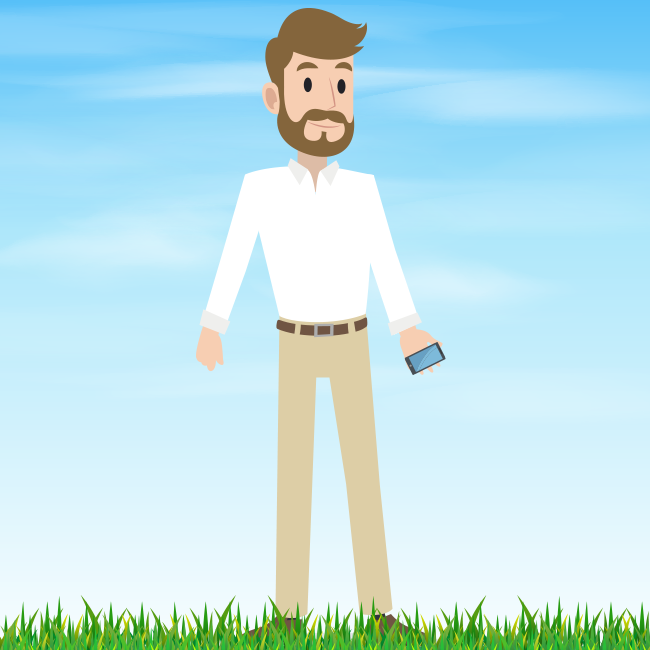 Depending on the customer types that you have identified so far, the ways that they could find you may vary.
Important questions to answer here will be:
What websites/online blogs does this customer visit?
Being present on the websites and blogs that your customer will be visiting is great for brand awareness and ensuring you are seen by your ideal customer types.
What kind of search terms will each customer type be using?
Creating useful content that your ideal customer types will actually be searching for could be the key to making your online content seen and shared. At this stage you can decide which customers will be looking for specific, niche content that will benefit them directly, and which customers will be looking for more general and shareable content.
You don't have to create these personas from scratch, either. There are plenty of both paid and free templates out there that will give you a base for starting:
Building customer profiles for your offerings is one of the essential elements for crafting your content marketing strategies, and it may seem like an arduous task, but the benefits could be genuine conversions on your website from customers that you have targeted effectively.
We're experts in helping businesses define their market and drill down into the nitty gritty parts of customer profiling. If you'd like any help with this, then get in touch today.
If you were to look it up, the chances are every day is a national, international or awareness day of some kind. Some are serious, the intention to make us think – such as World Diabetes Day on the 14th Nov 2019. Others are just fun and often a little bit whacky such as national wear your pj's to work day (It's on the 16th April if you're interested!)
With over 1,000 of these days and months, plus bank holidays and religious holidays, your calendar is jam packed, you could have a theme for each day!
In recent times, lots of companies have jumped on some of these national days and used them for their own marketing, and it proves to be a great way to add some personality to your brand image.
Depending on your business and industry, you can host marketing promotions and events for certain days that are relevant to you. For example, if you have an optical business, National Glaucoma Week could be your opportunity to run an event to educate your customers on the effects and causes of Glaucoma. Run a bakery? Then National Donut Day may be the one for you!
There are, of course, more well-known holidays that most businesses will use, like Christmas Day. Utilising the lesser-known holidays are a good way to stand out, though. Why?
– On a national day that is smaller and more unique, you won't be trumped by huge corporations with an unlimited marketing budget
– The quirkier days can put a smile on your customers faces or brighten up their day, this can put you in a positive place in their minds
How can you use national days in your marketing?
– Create some interesting and relevant content for your blog or website
– Share this content on your social media – remember to alter the content to suit your platform though!
– Don't forget to use the official and unofficial hashtags which are being used around the day's theme so that you join in with the conversation
– Add a special sale or offer that relates to the national day – this will entice people to purchase
– Hold an event with a theme for the national day. If it's a fun and quirky day, then maybe you could hold more of a party style event, if it's a serious awareness day, then you could hold an educational event
To save you the time in hunting out all the relevant national days that you could jump on board with for your marketing, we've put together a handy document for our clients. Not every national day is on there, we'd have to publish a book for that, just some that we think are handy to know. Download the pdf, print it out and stick it up in your workplace, then you'll know when there's a date coming up that's worth shouting about.
Instagram Workshop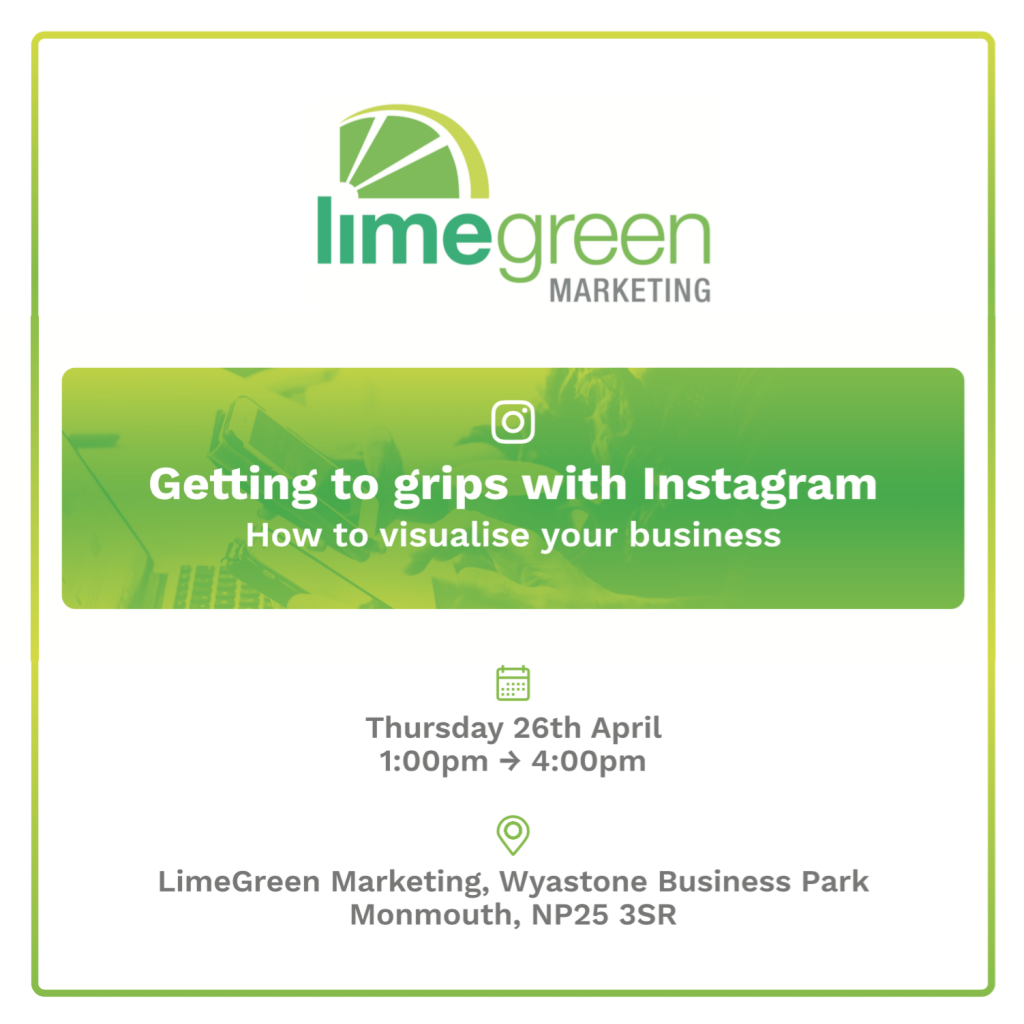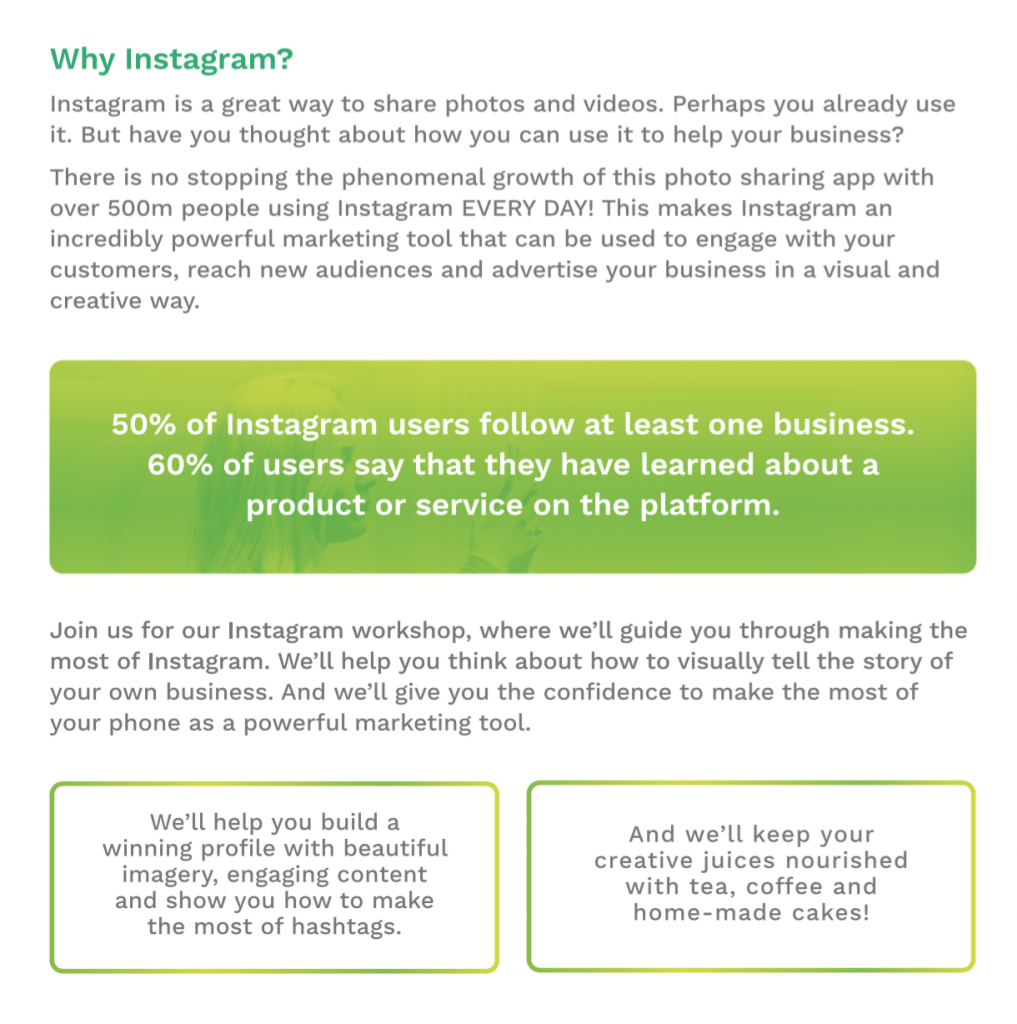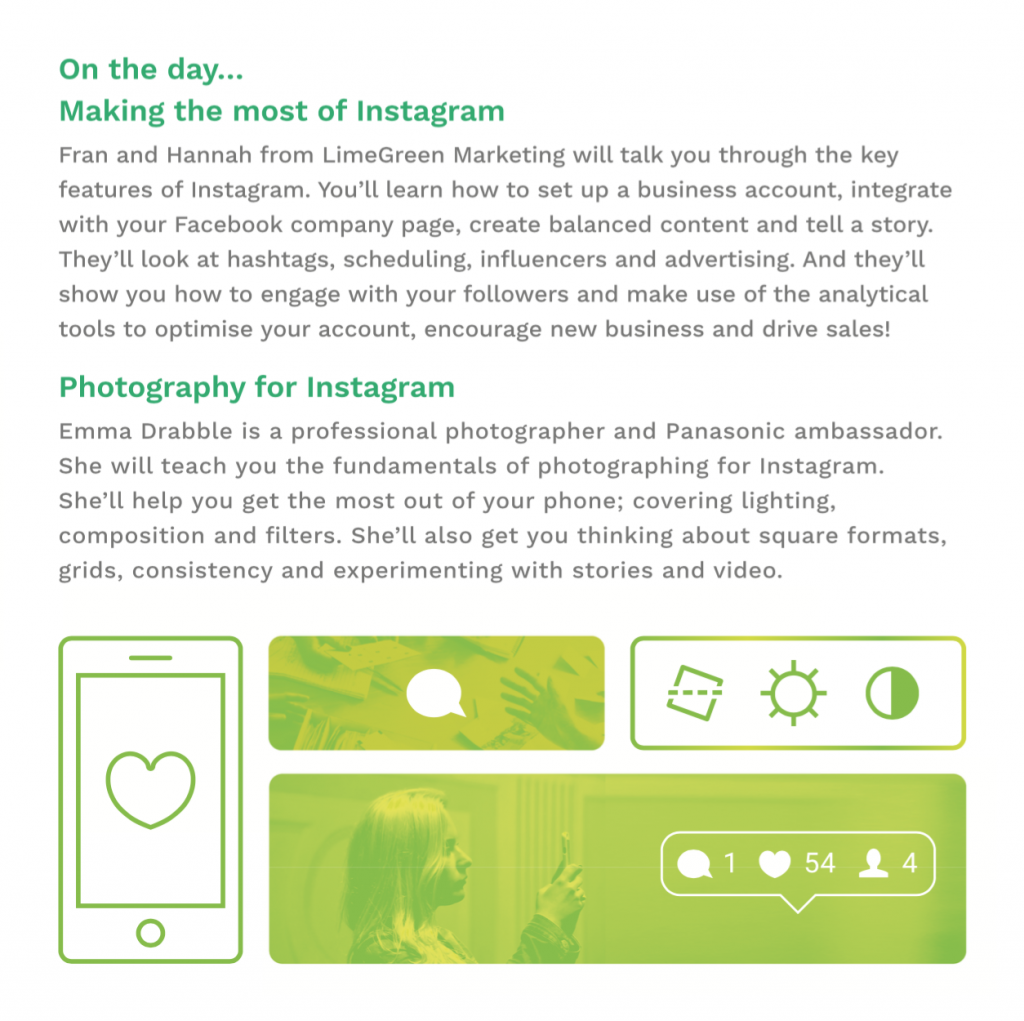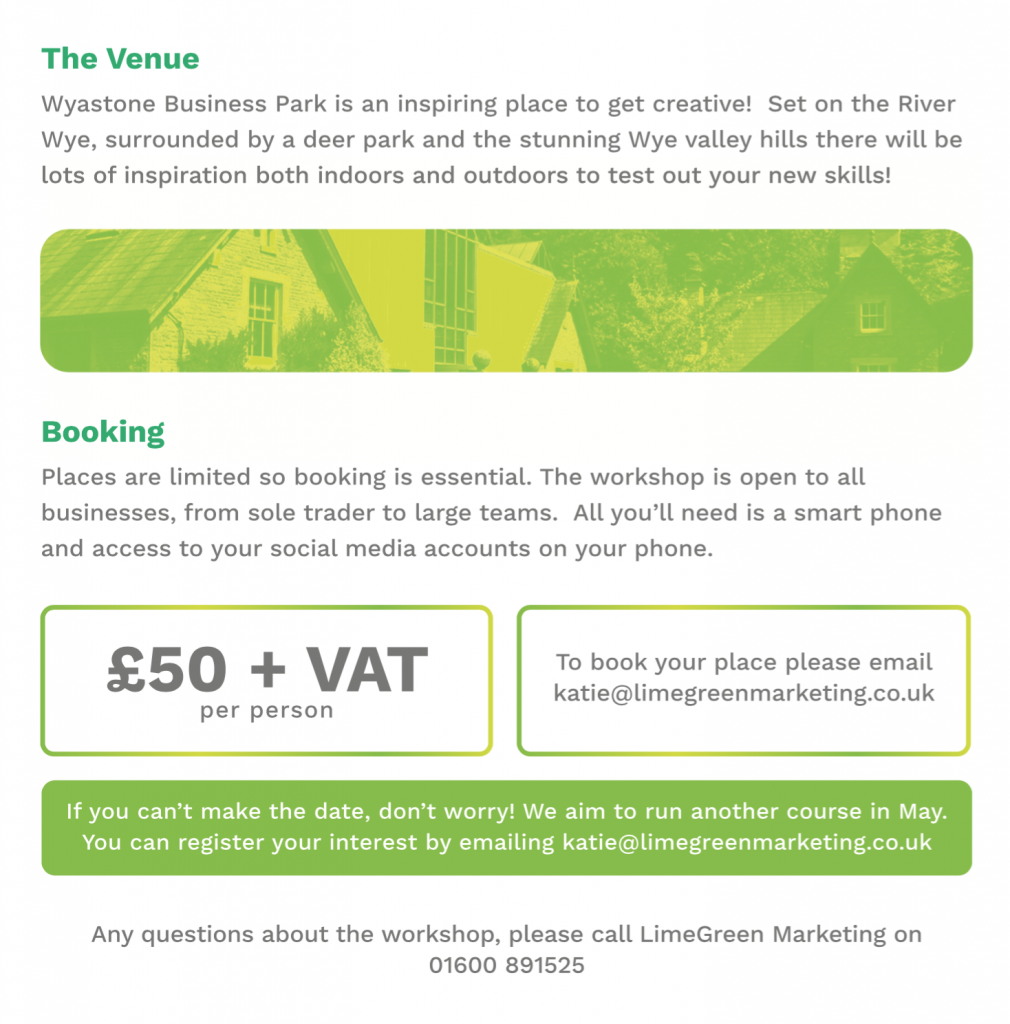 GDPR – Are you ready?
You may not have heard of it or may not really understand it, but its big and its coming. In fact, 25th May 2018 is when the General Data Protection Regulations or GDPR becomes law.
Basically, if you collect, manage, use or store any personal data of EU citizens, you're processing EU personal data within the meaning set out by the GDPR.
You can't ignore it as it will affect most businesses. Do you
• have a newsletter sign up on your website?
• keep details on your employees or suppliers?
• use a mailing list for networking or sales?
• make sales calls?
• need to collect personal information to carry out your business?
Then GDPR affects you.

SO, WHAT IS GDPR?
If you hold and process personal information about your clients, employees or suppliers, you are legally obliged to protect that information under current Data Protection Act. Currently this means that you must
• only collect information that you need for a specific purpose;
• keep it secure;
• ensure it is relevant and up to date;
• only hold as much as you need, and only for as long as you need it; and
• allow the subject of the information to see it on request.
GDPR has many of the same principles as the Data Protection Act but strengthens the rights to individuals. These include
The right to be forgotten – An individual may request that an organization deletes all data held on them without undue delay.
The right to object – An individual may forbid the use of certain data.
The right to rectification – Individuals may request that incomplete data be completed or that incorrect data be corrected.
The right of access – Individuals have the right to know what data is being held about them and how and what it is used for.
The right of portability – Individuals may request that personal data held by one organisation be transported to another.
GDPR also has stronger data processing requirements and places greater emphasis on the documentation that data controllers must keep to demonstrate accountability and the contractual relationship between controllers and processors. It also has far stricter and more financially punitive rules on data breaches.

WHO DOES GDPR APPLY TO?
The GDPR applies to what they call 'controllers' and 'processors'.
• A controller controls the purposes and means of processing personal data.
• A processor is responsible for processing personal data on behalf of a controller.
• If you are a processor, the GDPR places specific legal obligations on you; for example, you are required to maintain records of personal data and processing activities. You will have legal liability if you are responsible for a breach.
• If you are a controller, the GDPR requires you to ensure you have appropriate contracts in place with your processors to ensure compliance with the GDPR.
• The GDPR applies to processing carried out by organisations operating within the EU. It also applies to organisations outside the EU that offer goods or services to individuals in the EU.
• The GDPR does not apply to certain activities including processing covered by the Law Enforcement Directive, processing for national security purposes and processing carried out by individuals purely for personal/household activities.
GDPR covers a vast range of compliance so it's impossible to cover everything here. The rest of this paper is an overview from a marketing perspective for small businesses. We're assuming therefore that the data acquisition requires consent. Some business, e.g. a doctor's surgery, may not need to gain consent as this could prevent them from carrying out tasks critical to the service they offer. Because remember that under GDPR by giving consent individuals have far greater rights over their data including the right to object or be forgotten.
For more information on this visit https://ico.org.uk/

OK, SO WHAT DO I NEED TO DO?
Firstly, you need to understand the personal data that you hold, how you collected it and what you do with it. Questions to ask yourself are:
• What is the 'lawful process' for processing data?
• What data do I actually need for my business?
• How old is my data – how long do I need to keep data for?
• How do I collect my data – do I get specific consent?
• Do I share this data with third parties for example, your marketing agency?
• Where do I store the data?
So, for example, you collect data to send out email newsletters on your business services. You use a mailing list curated from website sign ups and network events from the last 5 years. You use MailChimp and store the data on your hard drive.
There is also data that you might not be aware you collect. If you've got Google Analytics on your website then you too are collecting data as GDPR also applies to data which could be traced back to an individual such as their computer IP addresses.
Secondly, you need to agree an internal policy as to how you manage this data and how you are going to collect data going forward to be compliant with GDPR. You need to then update your privacy policy to reflect this. This policy will need to explain what your lawful basis is for processing the data i.e. what you are going to do with their data. And how long you will keep their data, and their rights over their data.
Even if you don't collect physical data if you run Google Analytics on your website you'll also need a privacy policy.

GAINING CONSENT
If you have a mailing list you need explicit permission to email individuals i.e. they must have opted in. This is called giving their consent. Silence, pre-ticked boxes or inactivity does not imply consent;
Also GDPR regulations apply to data that was collected in the past. If you're unsure about whether the data you currently hold will comply with GDPR then you'll need to get fresh, affirmative consent for all the personal data you possess. You could do this by contacting your mailing list and asking them if they would still like to receive information from you. Remember they will have to explicitly give consent. If you're emailing them to ask for this then they will have to click a link to give consent. If you're sending a mailer by post you'll have to ask them to send back a reply (a pre-paid envelope will help with response). Yes, this does mean your mailing list is going to get a serious culling but on the flip side it means that those people who remain on your list are committed to your business.
From May 2018, all your avenues of data collection will need to have explicit consent and also the ability to unsubscribe from your database be that direct mail or an e-newsletter. So, if you have a newsletter sign up on your website you will need to ask them to specifically subscribe. You may have experienced this yourself. You sign up on a website, receive an email saying, 'hey just checking you wanted to subscribe to our newsletter, if so please click the subscribe button here'. This is called 'double opt in'. And any communication with your database must have the option to unsubscribe or opt out. It may lead to fewer subscribers but again these subscribers are actively committed to your business.
You will also need to record when they gave you permission and log what they were shown when they opted in. This could be an email notification when somebody subscribes, provided it shows which boxes they ticked. And you'll need to store that email securely for reference.
Why? Because, as mentioned, giving consent gives individuals the right to access the data that you hold on them. And if they've given consent they have a right to see what data you hold on them and to ask for their data to be deleted. You also need to plan how you would handle such a request.
If you're collecting data on children then GDPR has additional provision that you'll need to be aware of. For more information on children's data visit https://ico.org.uk/

SHARING YOUR DATA
If you use third parties that will be processing your data e.g. marketing agencies, MailChimp etc. then you need to ensure that they are GDPR compliant and that you have appropriate contracts in place to ensure that processing carried out by the third party meets all the requirements of GDPR. Controllers are liable for their compliance with GDPR and must only appoint processors who can provide 'sufficient guarantee's that the requirements of GDPR will be met and the rights of data subjects protected. Likewise, processors must only act on the documented instructions of a controller. They also can be held directly responsible for non-compliance with GDPR or the contract terms.
You'll find that most major processors such as MailChimp and Active Campaign are getting ready for GDPR and will support their customers with compliance.

WHAT HAPPENS IF I SUFFER A DATA BREACH?
If such a breach is likely to have a significant detrimental effect on individuals e.g., result in discrimination, damage to reputation, financial loss, loss of confidentiality or leave them open to identity theft then you need to notify the ICO within 72 hours of finding the breach. They will assess the severity of the breach and act accordingly. Failure to do so can result in a huge fine. Again, if you're not sure visit the ICO website https://ico.org.uk/
You also may not be aware that the Data Protection Act 1998 requires every data controller from large organization to sole trader who is processing personal information to register with the ICO. There are exemptions but this requirement will carry over into GDPR. You can register at https://ico.org.uk/

CONCLUSION
As we said in the beginning the scope of the GDPR is vast There's so much more that the GDPR covers including Social Media profiling and the use of Cookies. The key thing is to be aware of GDPR, understand the impact it will have on your business, your role as either a data processor or data controller and then put in place documented policies and contracts for the management and compliancy of all personal data that you hold and process.
This paper is just an overview of GDPR and does not provide legal advice. If you need help, the ICO website is extremely helpful and has numerous resources and checklists including
⇒ A useful 12 step checklist to help you get ready for 25th May 2018.
⇒ A direct marketing check list for small businesses
So, you're building a new website for your business and need to know whether to include a blog?
Well, just like social media, a blog is not just a box to be ticked, but a useful tool to keep your customers up to date with your company's products and services while helping your website's SEO (search engine optimisation) in the process.
Every time a blog is written it is indexed on your page. This means it will show up on search engines, making your website more relevant and pushing it to the top of the page of results. This in turn will drive more traffic to your site, which means more potential customers!
Adding a 'call-to-action' to every blog post can also strengthen your social reach, by creating content that encourages people to share it, and to find out more information about your company.
Another thing to remember when it comes to blogging is that this can make your company more personal and help your business develop a relationship with existing and potential customers. People are more likely going to spend their money if they feel like they know your brand.
To help you get started we've put together five tips to create a great blog article…
Understand your audience: It's important to understand what your audience wants so that you know they will want to read it. Create blogs that relate to your target audience or that link with your company's brand or product.
Pick a catchy title: Short, snappy and catchy! Your title needs to be informative about your blog content without telling the whole story, so people want to read the article and find out what you're talking about.
Featured image: An eye-catching image will attract a reader before they even read your title. Images should be relevant to the content of your post and images should be good quality. Once you've got your readers attention, they are more likely to read and remember your content.
Short and simple sentences: Just because you know what you're talking about, doesn't mean all your readers do. Keep it simple and avoid repetition. Readers can lose interest in a text heavy article that they can't make sense of. Using bullet points or lists can also make a blog article more readable.
Research: Check your facts. There's nothing worse for your brands reputation and respect than if you're found to be wrong. False or inaccurate information will not inspire confidence in your customers so get it right. The more useful information a blog post contains, the more engaged the audience will be and the more likely they are to share the post.
If you're looking for additional support and want to make the most of your businesses blog, get in touch with our team today. Email info@limegreenmarketing.co.uk or call us on 01600 891525.
5 Warning Signs Your Brand Needs to Detox!
Symptoms of fatigue and sluggishness warn us when our bodies are out of balance. But are you savvy to key business signs that show your brand could be suffering a similar malaise? Brands, like bodies, deteriorate with unhealthy choices and too little nourishment. How can you tell when your brand needs detoxing?
To get to grips with this, you need to understand the basic physiology of a brand. Brands reside in consumers' minds. Your brand is built out of all the beliefs and associations that consumers hold about your products and your business. This bundle of perceptions is built up over time, and it will determine how likely consumers are to buy your brand.
Brand perception is fed, for good or ill, by all your marketing communications including: packaging, advertising, website, social media, direct interaction with staff, press coverage, emails, promotions, and printed materials such as brochures etc. Brands living in consumers' minds will be nourished by clear, relevant and motivating communication or toxified by conflicting or ill-judged messages.
Here are 5 key signs that your brand is ready for a detox.
1. You don't know who your brand is for.
How easily can you paint a clear mental picture of your typical consumer? To develop an engaging brand, you need to have a good understanding of the people who use your product. You need to understand both the big stuff (what their needs are, what's important to them) and the little stuff (such as what makes them laugh, what magazines they read). Strong brands are relevant to their audiences; they speak the right language and deliver meaningful benefits. Without consumer insight you are blindfolded. Understanding your consumers better will make your marketing activity fitter, leaner, and more effective.
2. Your consumers aren't engaged
Be very wary of a one-way relationship with your customer base. If you receive little feedback to social media, have below-par email open and click-through rates, struggle to generate interest in promotions, or rarely receive any spontaneous feedback, these could all be important warning signs and a lead indicator of sales trouble ahead. Potential causes of consumer apathy include: overloading them with irrelevant messages, failing to reach the right people at the right time, or simply poor execution; marketing activity that fails to cut through the noise.
In contrast, an active core of brand loyalists is a good sign of a healthy brand. Engaged consumers with strong emotional ties to your brand, will act as advocates, recommending your products to others. Rejuvenate your marketing plan with a focus on engaging and mobilising your consumer base.
3. You haven't nailed your brand's most important benefit
Perhaps your brand has an impressively long list of features and benefits. It is not easy however, to embed many different benefits into busy consumer's minds with a scattergun approach. For much better results, take aim with your brand's most powerful, top-level benefit. For example a mobile phone will have 100's of features and benefits that might include: a faster loading camera, battery that won't let you down, hands-free use with voice control etc. But focusing the marketing on a single benefit that emerges from all of these – such as 'living in the moment' – will be far more successful.
4. Your staff can't articulate what your brand stands for.
This is a great litmus test for brand health. Your staff are exposed to all your brand marketing. If staff can't give a coherent answer to 'what is your brand about?', consumers will definitely struggle! One of the main pillars of good brand management is clarity. If your brand has become confused through poor communications, then it is time to get back to basics and detox your marketing approach.
5. Your branding is not consistent.
Lay out all your visual representations of your brand i.e. packaging, brochures, website, flyer, brochures, website, everything. Is the branding consistent and harmonious, or viewed altogether does it give you a headache? Over time, it can be easy to get cast adrift with minor logo variations creeping in, colourways and fonts wandering off in various directions. What about the tone of voice? Are all the materials written in the same style or is a bit of split personality showing through? If you want consumers to really believe in your brand, you need to present a reliable face. Detox your branding by capturing some simple brand style rules and then sticking to them fanatically.
In business, as in life, we all need to take stock and invest a little time and effort in regaining good health every so often. Use these 5 warning signs to recognise when a brand detox would be beneficial. Remember that brand perceptions live in consumers' minds; a diet of good marketing communications will sustain your brand to keep it pure, fit and healthy!