While our team are all pretty used to working remotely, we know that some of you will be making the most of your lockdown days at home spring cleaning, cooking, reading or perhaps wrapping up warm in a blanket and binge-watching your favourite shows on Netflix. Another option could be wasting time on the internet.
It's rare that any of us get the chance to just sit and surf at our leisure these days. So, we thought we'd share with you a few of our favourite websites. Each has been selected for a different reason and is wonderful in its own right.
Lush
Lush specialise in fresh handmade cosmetics. You may have seen – or rather smelt – one of their stores on the UK high street. Founded by Mark Constantine and Liz Weir in Poole, England, the company sells natural hair and beauty products which are all handmade in their factory in Poole, Dorset. Lush pride themselves on their brand values, which include being 100% vegetarian, not testing on animals, ethical sourcing of their ingredients and naked products (minimising packaging where possible) to name just a few. Here's why we love their website.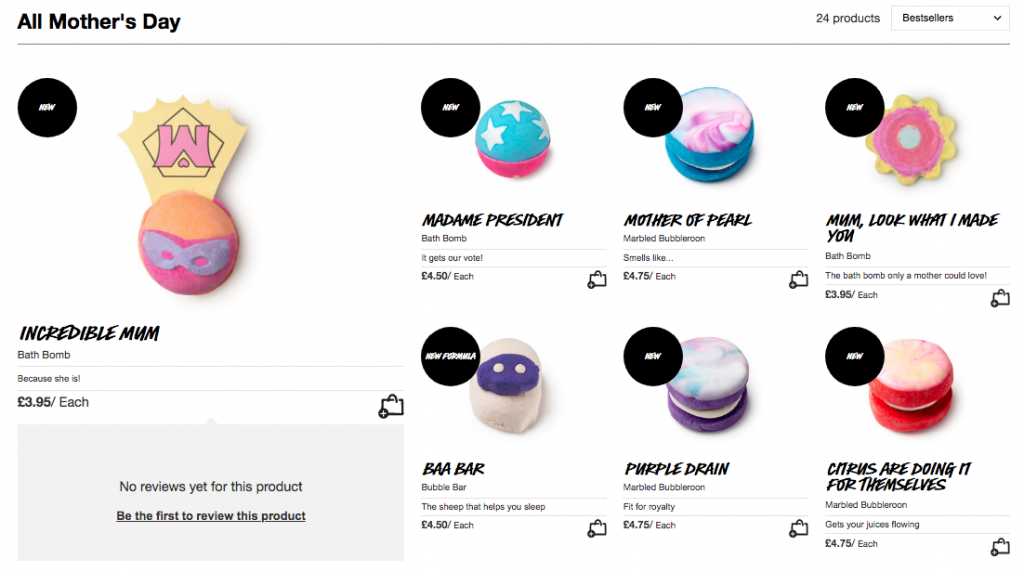 The homepage of the website is always updated with seasonally relevant products and campaigns including beautiful videos of products in action!
The design of the website is simple and clean which really maintains the focus on the products and makes the product imagery stand out.
Brand values and messages are clearly communicated throughout the site helping instil brand identity and customer confidence.
Information is shared but not in an overbearing way with snippets being shared throughout the site as you shop.
Customers can shop by ingredient while learning about the natural benefits and qualities of each one!
They have online exclusives to keep in-store shoppers engaged with their website too.
BuzzFeed
It's highly unlikely that you haven't stumbled across a BuzzFeed article in some way, shape or form by now. BuzzFeed is an independent digital media company delivering news and entertainment to people around the world via its website, apps and social media channels. The organisation claim, "We strive to connect deeply with our audience, and give them news and entertainment worth sharing with their friends, family, and the people who matter in their lives." And that's just why we like them! The perfect website for killing time on your mid-morning coffee break or learning things that you probably don't really need to know, BuzzFeed is packed full of news, videos, quizzes, recipes and much more. Here's what they do well.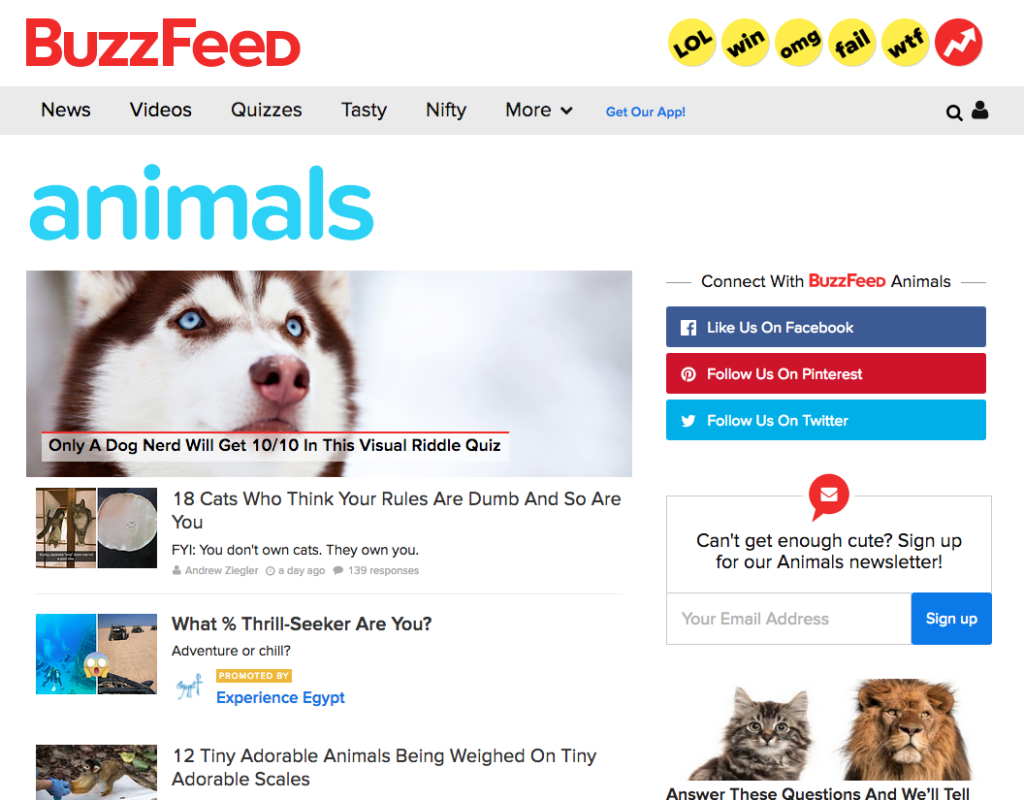 Light-hearted content. While you'll find serious stuff on here too, if it's a break from the doom and gloom of the world that you're looking for, you've come to the right place.
Cross channel integration. For BuzzFeed social media is an equally important way to reach people and they've got this down to a fine art.
It reads like a newspaper. The simple journalistic design of the website makes headlines pop and encourages click-throughs to articles.
They have a quiz called

"Do You Actually Prefer Chocolate or Cheese?"

!
Not on The High Street
If you've ever been looking for a one-of-a-kind gift for that friend or family member who is just so tricky to buy for the chances are that you've visited 'Not on The High Street'. Founded ten years ago, the brand aims to bring together "unique, stylish and never-before-seen products that are hard to find anywhere else". They are home to more than 5000 of the UK's best creative business and have a fantastically functional website to showcase them.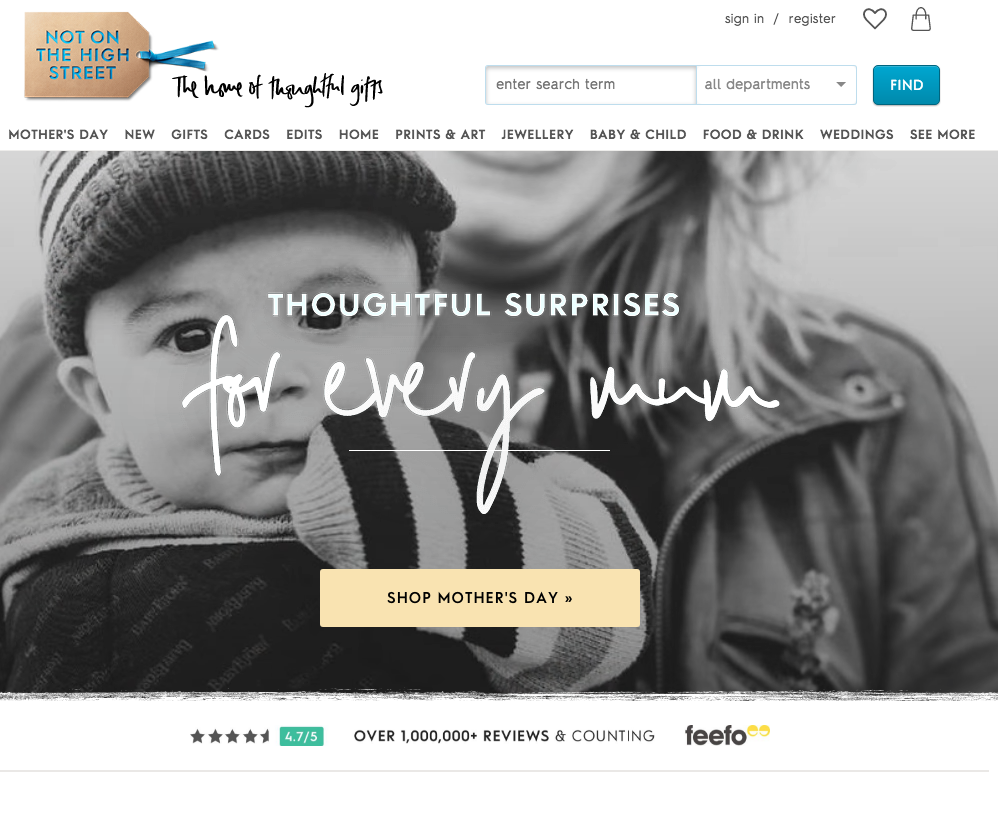 This website is particularly easy to shop with users being able to search by occasion, gift recipient, category or a specific key word search.
An extensive range of filters allow users to narrow down their options easily by price, personalisation, colour, size and special features.
The design is simple and doesn't detract from the products.
Product imagery is of the highest standard and stylistically consistent.
Seasonal features on the homepage help plant new ideas for shoppers to consider, creating the opportunity for additional sales.
Magic Seaweed
Magic Seaweed has a very specific following. With surf reports, surf forecasts, web cams and surfing photos for spots around the globe, it's the go-to place on the internet for the surfing community. While it's a niche website tailored to a very specific interest, here's why we think it works so well.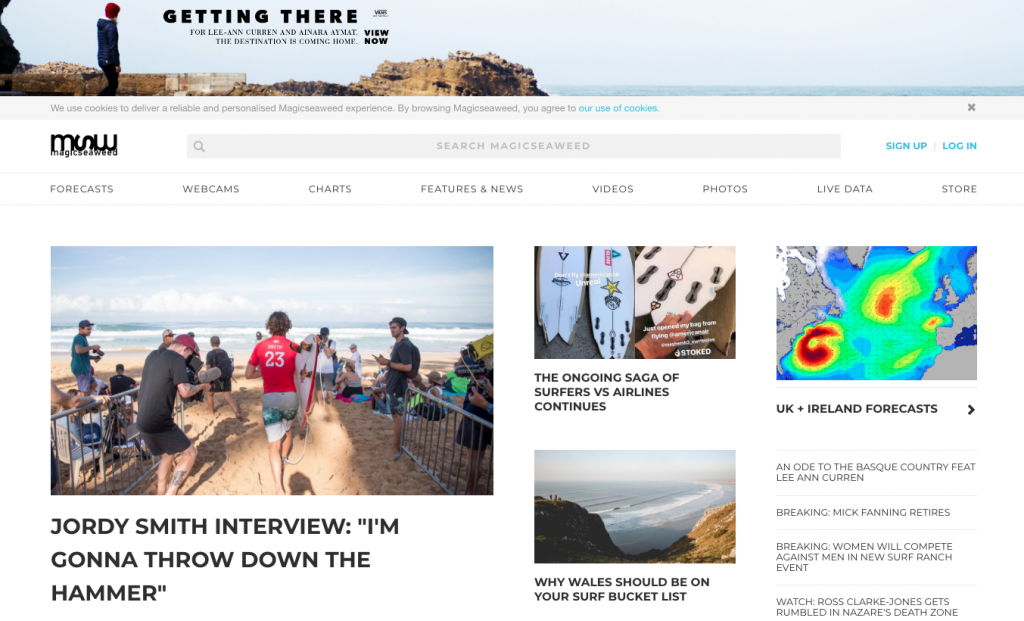 The website design itself is simple and while it contains lots of different types of content it doesn't feel cluttered.
The menu is clear, always visible and easy to navigate, enabling users to find what they're looking for quickly.
Magic Seaweed have found a way to include informative content like weather charts and articles, alongside visual media like videos and photography, which somehow all work in harmony to create a great overview of the community and the sport.
They have successfully included an eCommerce facility on their website which somehow feels like an extension of the website rather than a standard online shop.
The British Fashion Council
www.britishfashioncouncil.co.uk
The British Fashion Council (BFC) is a not-for-profit organisation that aims to further the interests of the British fashion industry and its designer businesses by harnessing and sharing collective knowledge, experience and resources of the sector. It focuses on business, reputation, education, digital and investment so it's website needs to strike the right balance between visual content and information, as it serves as a resource for industry professionals as well as representing what's currently happening creatively.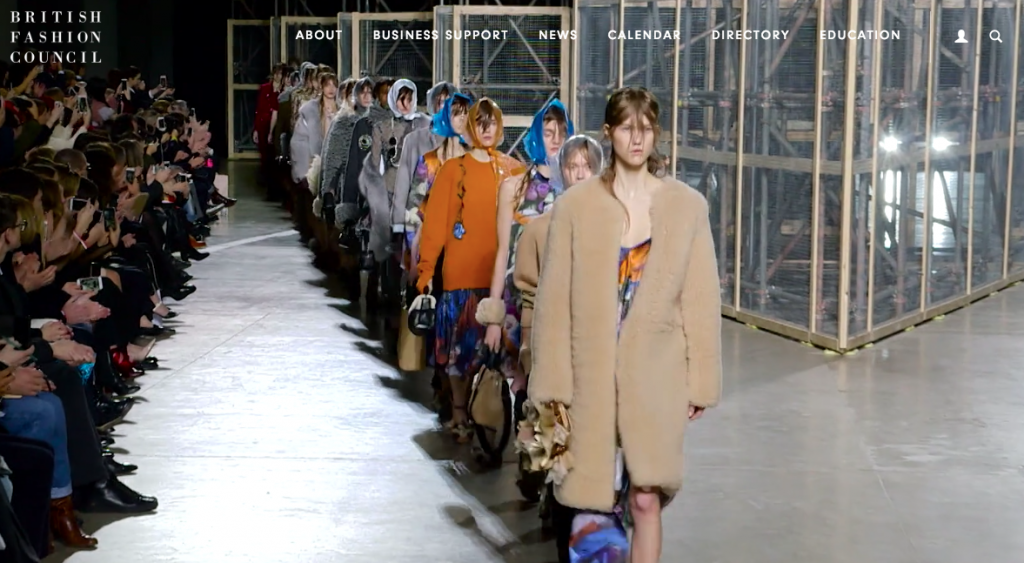 The homepage of the site is instantly interesting and engages the user with a full screen video without compromising the navigation menu.
The design is fit for purpose. Fashion was designed to be showcased on moving models and this has been captured in the website.
Information is easy to find and resources are well organised.
Are you feeling inspired and thinking of setting up your own website? Perhaps you need to inject some fresh thinking into an existing one? Get in touch with our team and find out how we can help. Email info@limegreenmarketing.co.uk or call us on 01600 891525.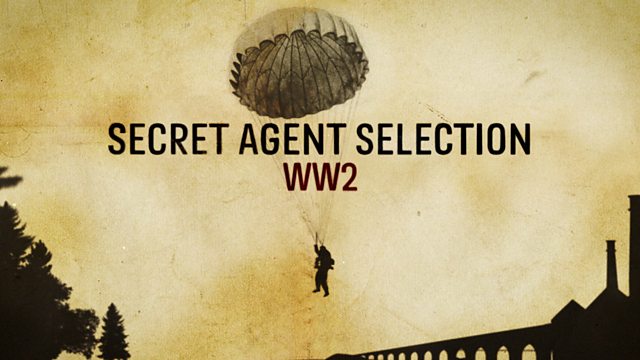 We'll be settling down in front of the TV tonight to watch Secret Agent Selection WW2 on BBC2 . Not because we've a strong desire to be the next James Bond or Emma Peel (although that would admittedly be quite cool!) but because the series is filmed on Alvie Estate in the stunning Cairngorms National Park.
It's not hard to see why the BBC chose Alvie Estate as the location for their series. Set in the heart of the Scottish Highlands, in the Cairngorms National Park, Alvie House, is an Edwardian shooting lodge with traditional charm and a spectacular setting of the surrounding mountains. The Estate, family owned, is a traditional working estate with native pinewoods and heather moors. It's not the first time is been the setting for films and TV. Rumour has it that it was also considered for James Bond's family home in Skyfall.
We've been helping Alvie Estate to co-ordinate their online presence. They wanted to give their holiday cottages better online visibility and improve occupancy. In addition to the cottages, Alvie Estate offers a range of field sports and outdoor activities as well as running events in the house. And, neighbouring Alvie Estate is Dalraddy Holiday Park, a campsite for tents and tourers as well as statics and chalets for rent or purchase .
Previously Alvie had just one website featuring all the different offerings which made it difficult for visitors to the site to find the information they wanted. So, given the different messages, we decided that the best option was to create three separate but linked websites for the cottages, the holiday park and an overarching website for the Estate itself .
Working with their incumbent web developer we designed and developed the three sites each featuring the same design and colour palette. We wrote the copy for each website to ensure a consistency of tone and voice across the sites whilst promoting the different businesses. And we also refreshed the Alvie and Dalraddy Estates logo.
Alvie Estate – view website
Alvie Holiday Cottages – HighlandsSelfCatering.co.uk
Dalraddy Holiday Park – CampinginAviemore.co.uk
Since the launch of the websites this year Alvie Estate Office has noticed a signifiant increase in enquiries. So, if you feel you could make the grade as a secret agent why not book a stay on Alvie and test your spy skills!
You can catch a sneak preview of Secret Agent Selection WW2 on the BBC
In the world of digital marketing, there is no doubt that content is key. While most of us will spend time perfecting copy and keywords to improve our website's SEO ranking, or social media search results, we should be paying equal attention to our imagery – and here's why…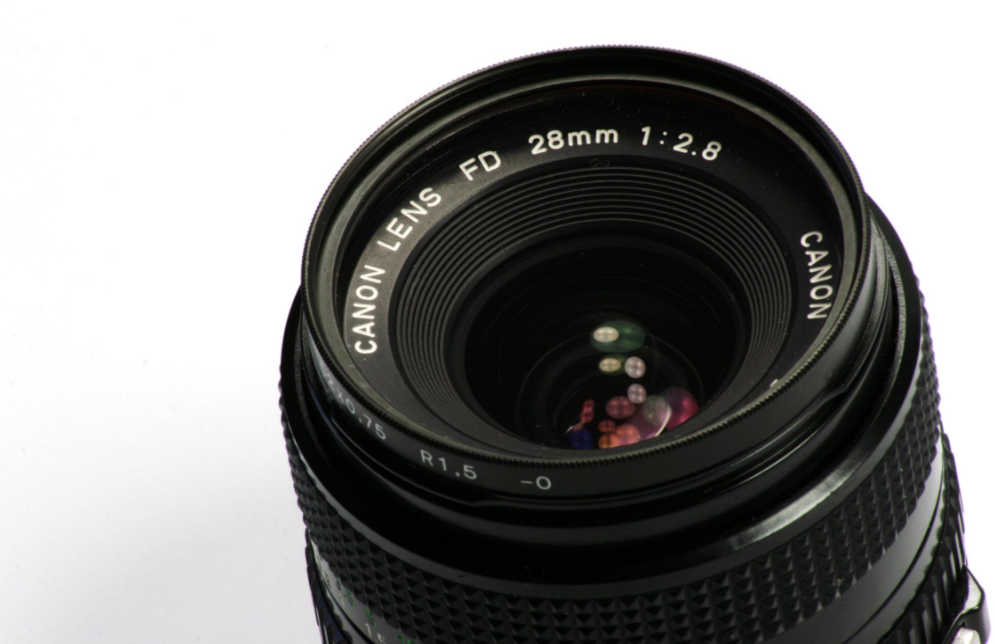 1. 90% of information transmitted to the brain is visual and visuals are processed 60,000 times faster in the brain than text.
2. Using images in your social media posts improves engagement. On Twitter engagement on posts including images is 35% higher than those without. Whereas Facebook users will see 53% more likes on posts with an image which in turn are 84% more likely to receive a link click.
3. Images help your audience remember your message. We remember 10% of what we hear once 72 hours have passed. If we've seen a supporting image, this increases to 65%.
4. Images help with your organisations visual identity which is just as important as your brand voice.
5. Images have a strong emotional factor which can bring out emotion in an audience and encourage them to act.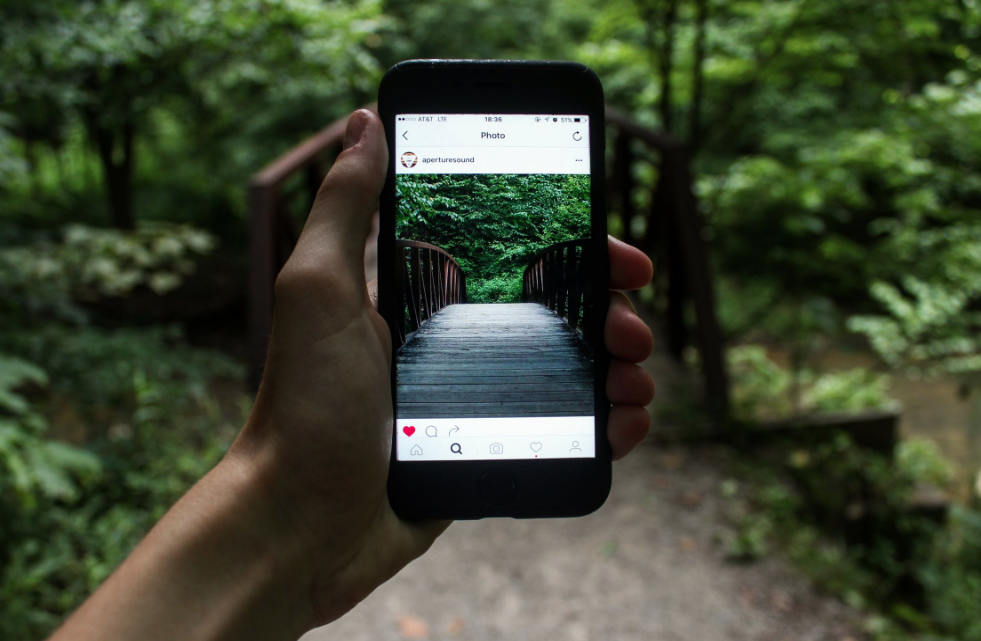 For more information email info@limegreenmarketing.co.uk or call us on 01600 891525 to book your place now.
Instagram Workshop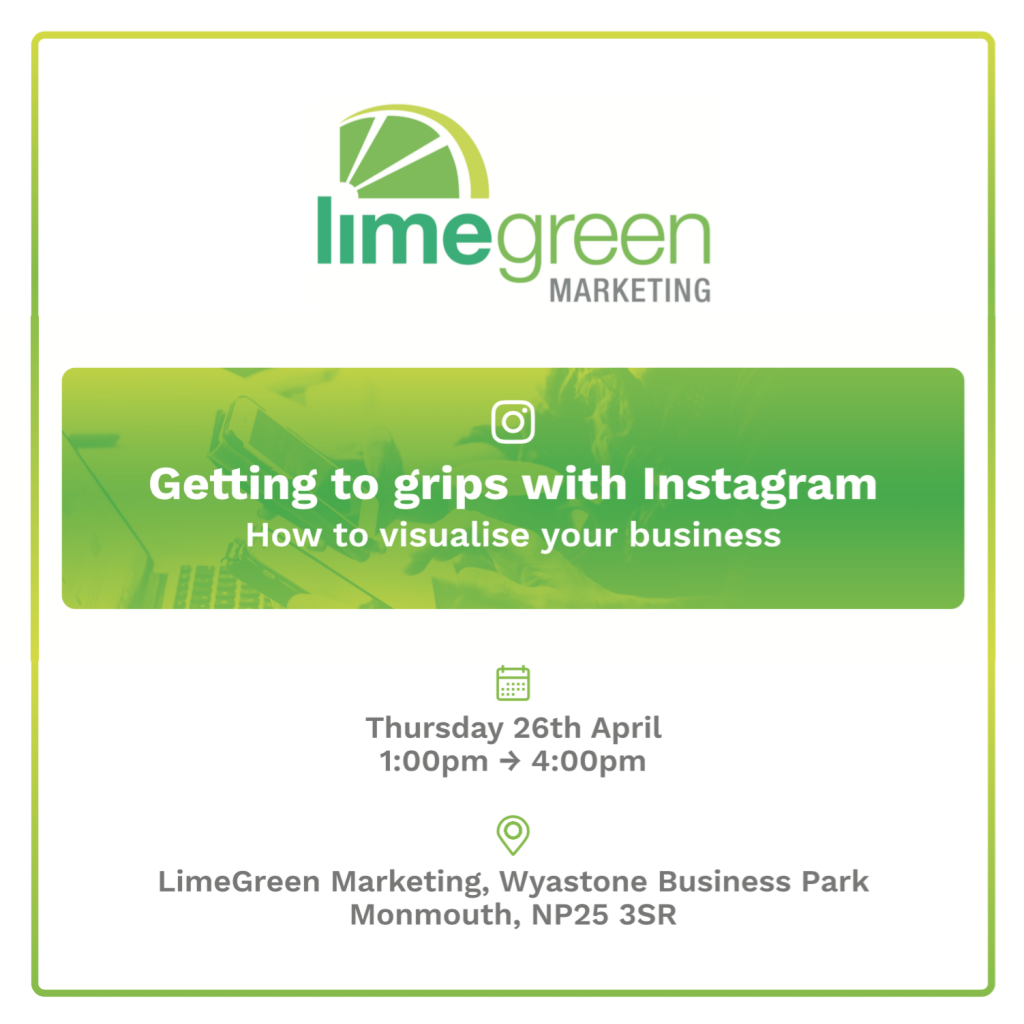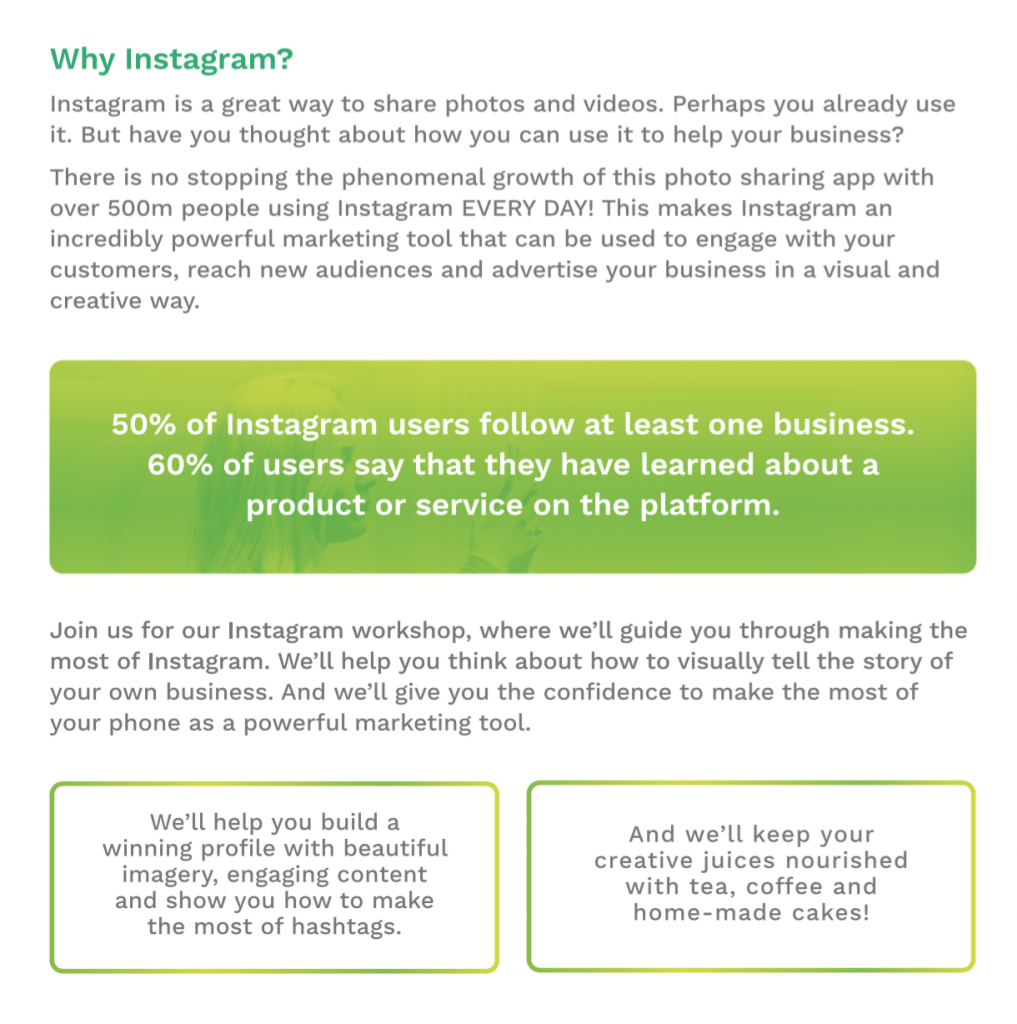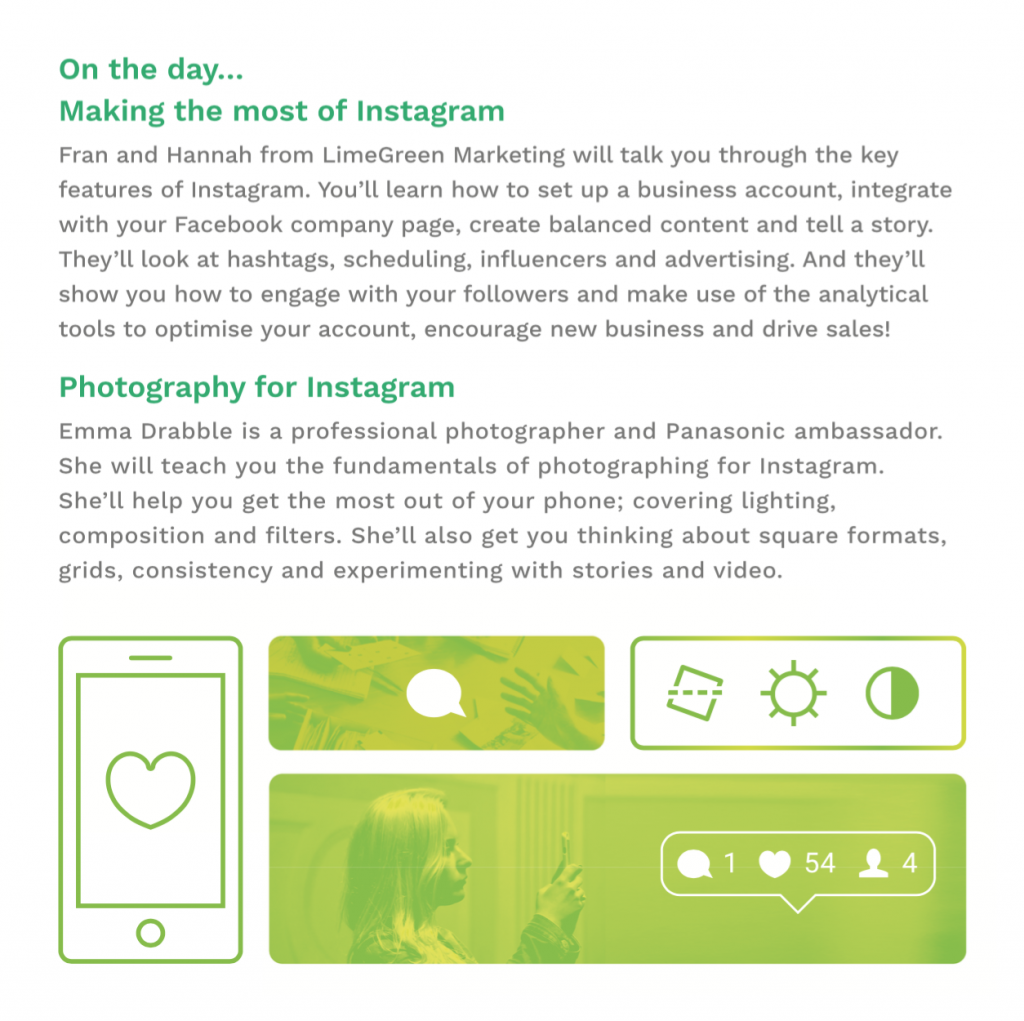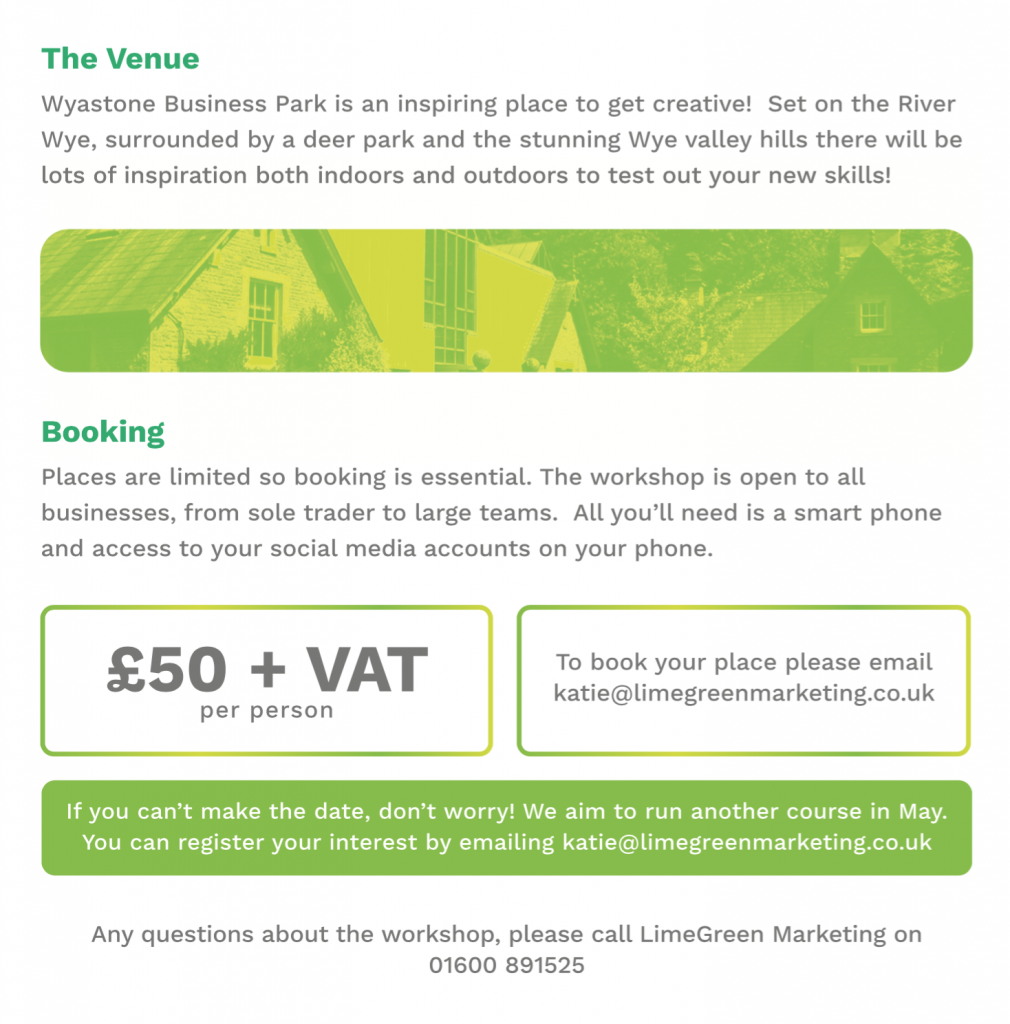 What is brand voice?
Brand voice is the language and writing style used to communicate the personality of your brand, its values, identity and place within the market.
Why is brand voice important?
While brand voice is just one part of your brand, it's equally as important as your visuals, social media, marketing materials and product packaging – essentially, it's the literary equivalent of your visual identity – and all should work together in harmony to communicate your product or service effectively to your audience.
How do I decide on a brand voice that's right for my business?
There are lots of different styles of brand voice that have been adopted by different organisations and these have become even more diverse and varied over time. Some organisations like to take a more corporate or professional approach while others prefer an informal conversational style to reach their audience. The important thing is recognising what's right for your business.
For example, if you're in the healthcare, finance or defence industries, taking a more light-hearted approach isn't really going to be appropriate when you need to gain the trust and confidence of those counting on you. We take a look at some examples below of brands who got it right.
Coca-Cola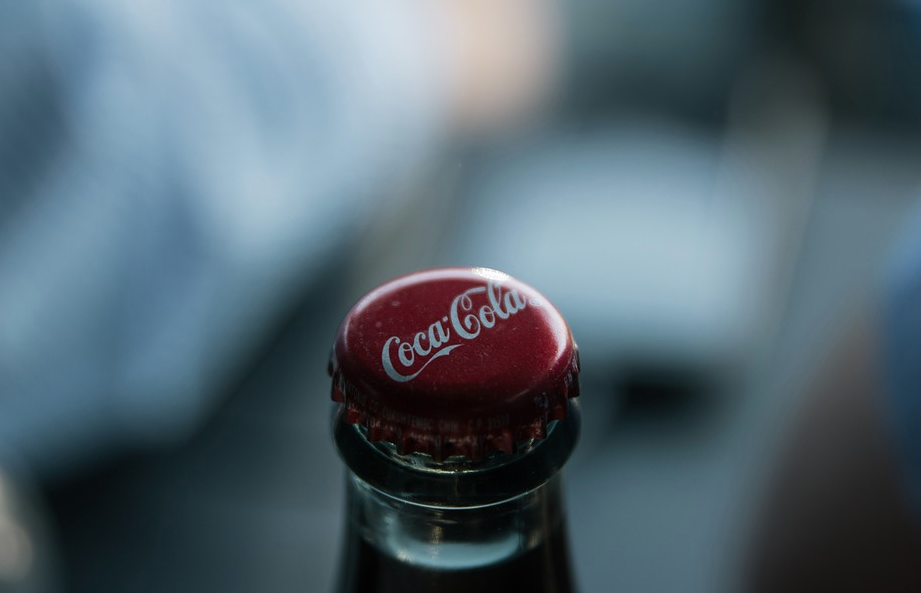 While Coca-Cola may have updated their visual identity several times throughout a century (and more) of trading, their brand voice hasn't really changed. That's because they have stayed true to their mission and values. By being consistent in their brand voice and talking to their customers in a way which evokes happiness, this is just what they spread when people are sharing and enjoy their product.
John Lewis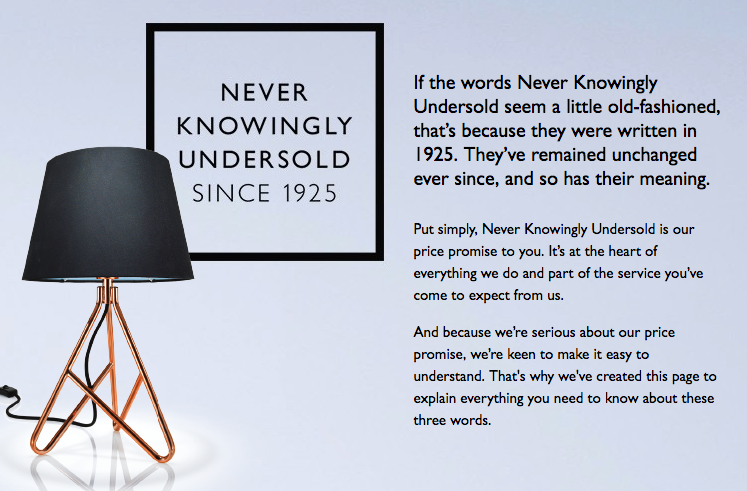 Established in 1864, the first John Lewis department store opened on London's Oxford Street. This longstanding brand has proved itself as a company shoppers can trust for quality and its success continues today. With the royal seal of approval from HRH Queen Elizabeth II in 2008, John Lewis will always be recognised as a British brand whose values have remained at the forefront since it was founded. The company mantra "Never knowingly undersold.", further instils this ideology, as does their brand voice. Combined with their simple but recognisable graphic logo, John Lewis use simple language to create a confident, informative and trustworthy brand voice accessible to their diverse customer demographic.
Innocent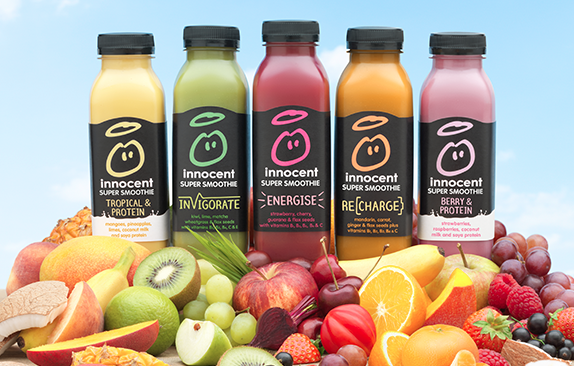 Taking a more personal approach to their brand voice are smoothie makers, Innocent. Their conversational way of communicating with their customers is simple, factual, fun and full of stacks of personality. This is the story of a company who have not forgotten their roots and whose humble beginnings remain evident in their simple style of marketing.
If you're a start-up looking to develop an effective brand voice get in touch with our team today. Perhaps you're already up and running and just need a bit of fresh thinking? You can call us on 01600 891525 or email info@limegreenmarketing.co.uk.
By definition, an Infographic is a visual representation of information or data, for example as a chart or diagram. Sounds exciting, right? Well perhaps not and you might wonder what we're doing talking about them on our website.
What does an infographic have to do with marketing and how is it relevant to your organisation? Don't be fooled. Infographics can be incredibly useful tools, providing a new way to share information and engage your audience.
Here are just some of the reasons we love infographics…
One – Infographics are a great way to display lots of information clearly in a small space.
Two – Infographics keep your audience engaged as they're much more interesting to look at than a plain block of text. This one shows some facts and figures from the 2015 Rugby World Cup…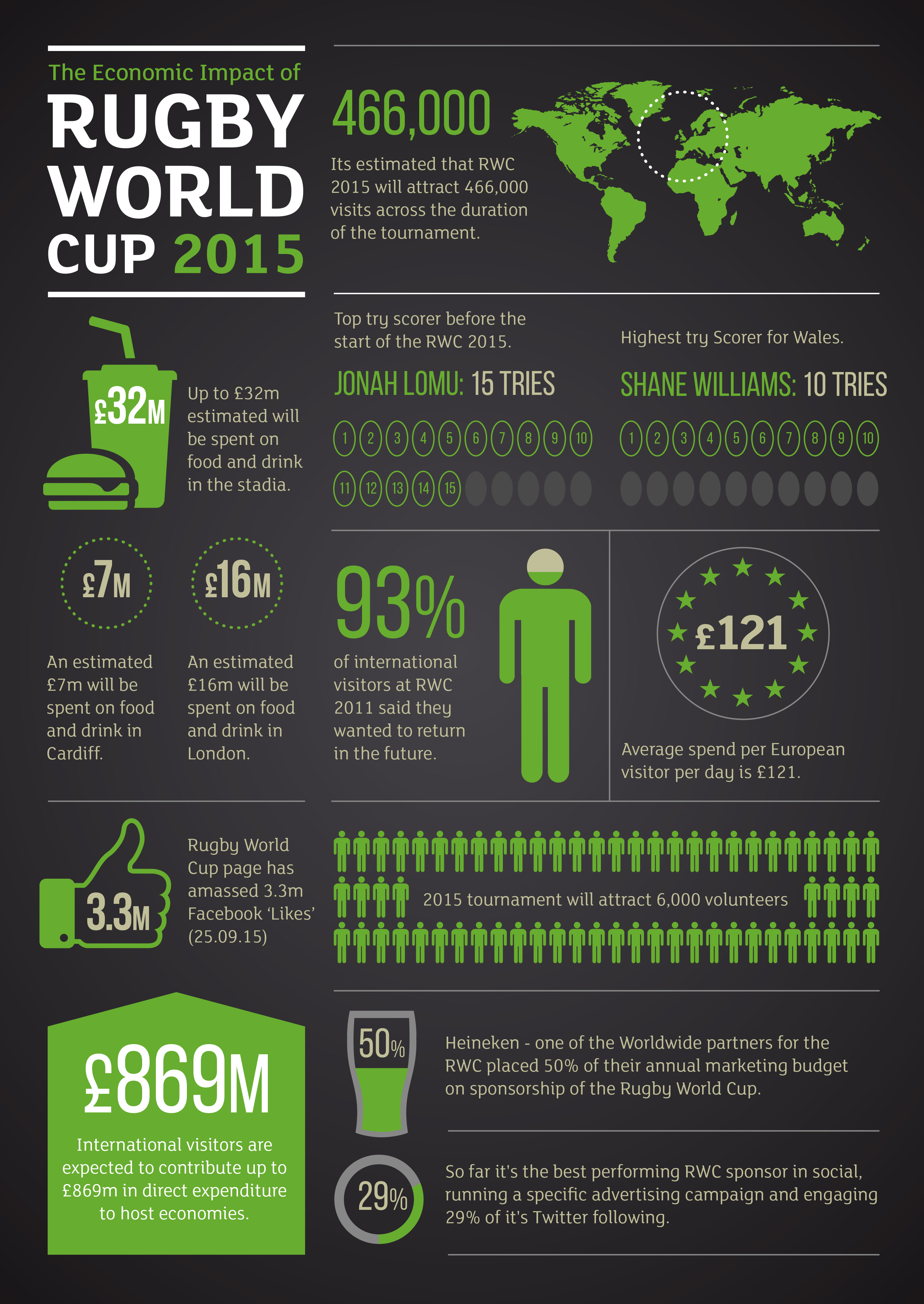 Three – Infographics are easier to produce than you think. Take a look at some of the useful tips and tools we've included at the bottom of this post.
Four – They're easily updatable which means that you can keep your information current and infographics can be a great way of sprucing up your annual report.
Five – If you want to tell a story and/or show off your organisation's achievements use an infographic. We love this one from Macmillan!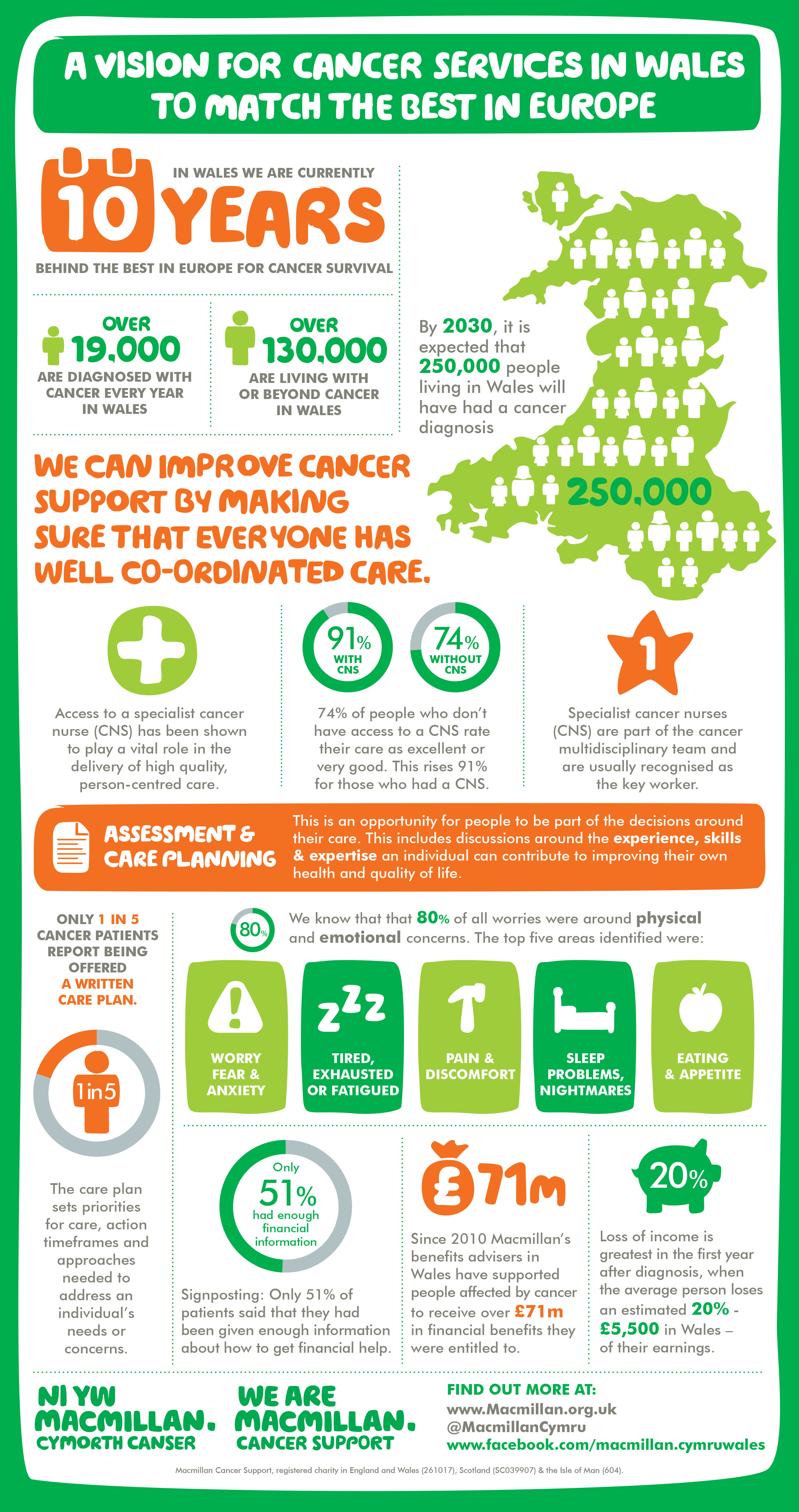 Six – A well branded infographic can explain who you are and what you do, raising brand awareness.
Seven – 90% of information transmitted to the brain is visual. They say that a picture paints a thousand words so imagine what you can achieve with a striking infographic.
Eight – It's been proven that infographics get more shares on social media, increasing their potential to go viral.
Nine – Infographics can be exactly what you want them to be. Most templates are customisable and if you're designing your own, well the possibilities are endless! Here's one we put together for Monmouth Festival.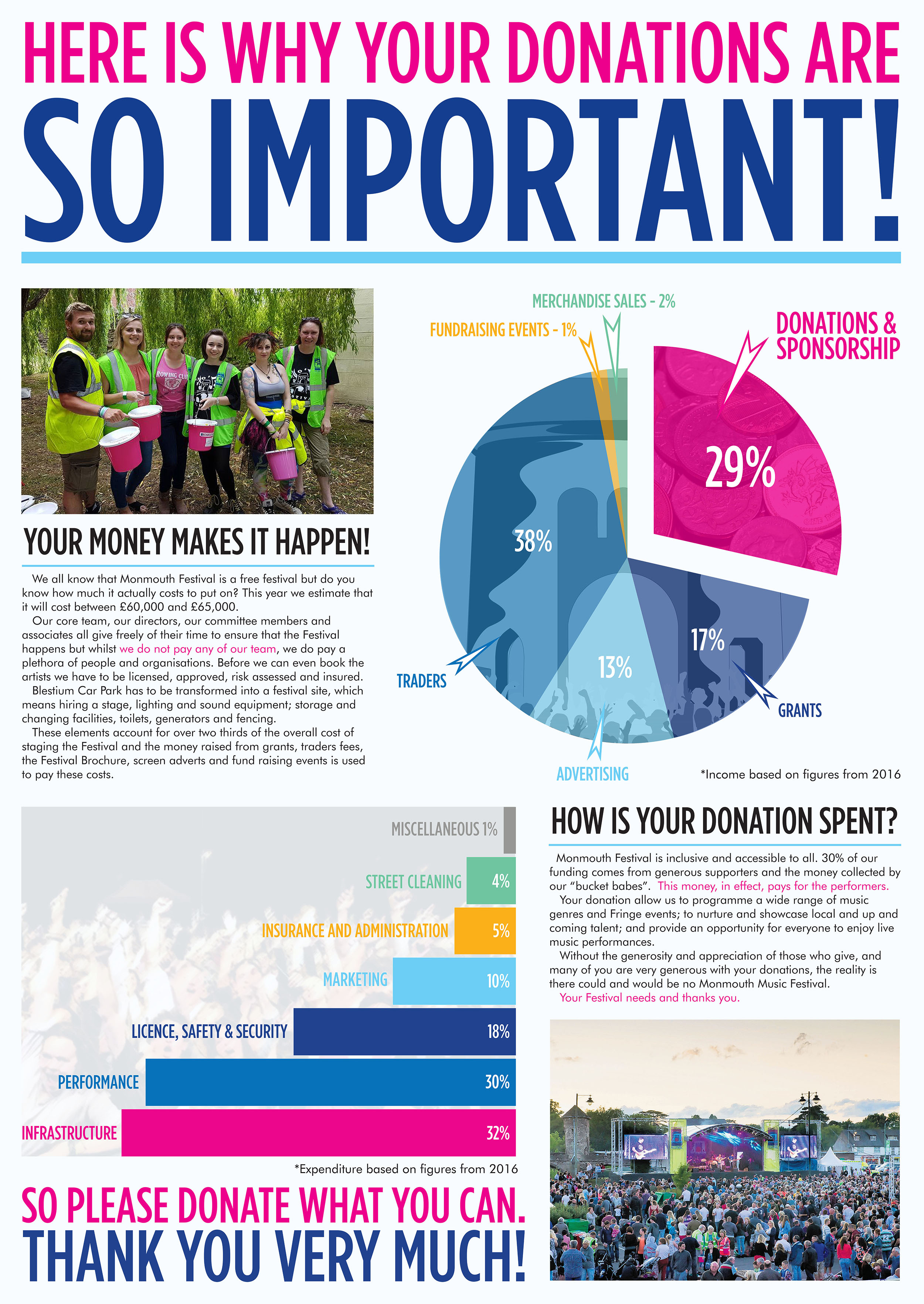 We've included some useful websites here which can help you get started with creating your own infographics.
Canva
https://www.canva.com/create/infographics/
We're always championing Canva with our clients. If you're no Photoshop whiz this website provides great templates for you to customise and post on your social media channels. And they now do infographics too!
Piktochart
More advanced in its function and dedicated specifically to displaying data, Piktochart offers different paid subscription options depending on how advanced you'd like your artwork to be.
Venngage
Like Piktochart, Venngage also offers more paid-for subscription options based on user requirements. Templates are easily organised into business, marketing, education, tech. and social media.
Alternatively, if you're looking for something bespoke and original, get in touch with our team and discuss your requirements. Email info@limegreenmarketing.co.uk or pick up the phone and talk to us on 01600 891525.
The new year is the perfect time to make resolutions and what better new year's resolution to make than a vow to improve your social media? We're on hand with some helpful hints to help make you social media savvy in 2021. So, let's get started…
Creating a Social Media Schedule
A social media schedule can sound like a lot of work but in fact, this will save you time. By setting aside a small amount of time each week – or month depending on how far ahead you'd like to look – you can find some focus and hatch a plan so that you know exactly what you're going to post and when.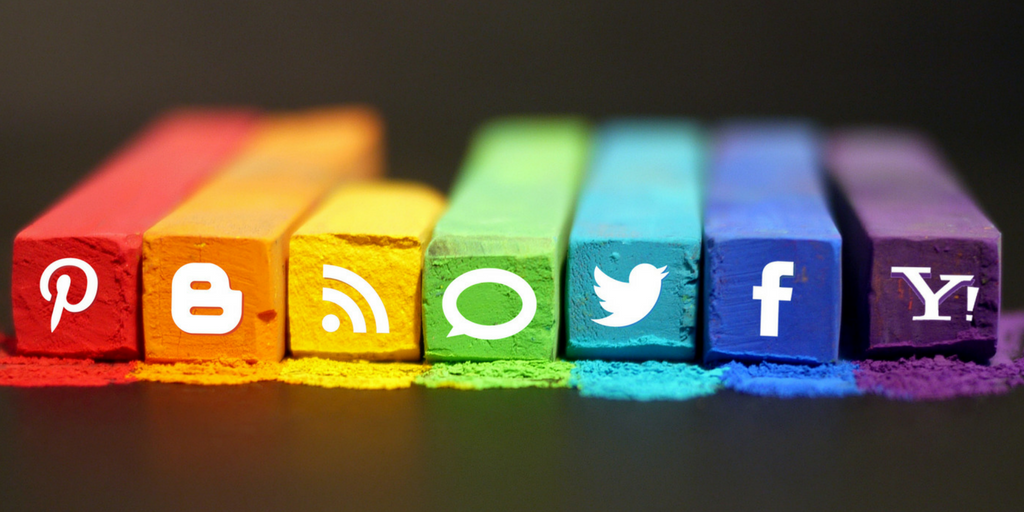 What Content Should I Post?
Images – Images are nice to look at. Images catch peoples eye. Facebook posts with images receive 120% more engagement than those with plain text. This is equally true with Twitter. Including an image on a tweet increases retweets by 150%.
Infographics – Infographics are the most socially shared form of content. They communicate data quickly and simply with minimal effort on the audience's part. Share your stats.
Newsworthy Content – People want new information all the time. Current, up-to-date news stories, that are relevant to your organisation are worth sharing. Be a source of useful information as well as being your brand.
Quotes – Be it humorous, inspiring, motivational or thought provoking, quotes are quick to read and are a good way of getting an easy like or share.
Behind the Scenes Photos – Give your followers something extra, something that they wouldn't see on your website or read on your blog. These types of images help tell the story of your brand and humanise what you do.
Reviews – If your business is doing well, shout about it! Word of mouth is a powerful tool. So is a social share.
Recurring Posts – Give your audience a reason to come back. A regular feature like a blog post or fun fact posted at the same time each week can work well.
Products and Promotions – Think of social media as your digital shop window. Sell yourself.
Where Can I Find Good Content?
Blog Posts – If you already have a blog make sure you share your posts on social media, but don't stop there. Do you read other blogs? If they're relevant to you and your business or you have something to say about them, go ahead and share.
Your Website – Don't forget to encourage people to visit your website by regularly sharing links. This is where people will find the most detailed information about who you are and what you do.
The News – Try to get into the habit of keeping your eyes peeled for stories that would interest your followers. If you can't share them right at that moment, save them for later or set a reminder. You could start to build up a bank of content quite quickly.
YouTube – Video is booming, and with 300 hours of it uploaded to YouTube every minute, you're bound to find something to share.
Canva – Not a Photoshop whiz? Canva is an online tool which allows you to create simple social media sized images, with lots of free content and the option to upload your own too.
Pinterest – Pinterest is a platform based on organised content. Someone else has already done all the hard work for you. Just type in your key words and let the search feature do the rest.
So, there you have it, what are you waiting for?
If you're interested in talking to our team about your own social media marketing requirements we'd love to hear from you. Email info@limegreenmarketing.co.uk for more information or give us a call on 01600 891525.
5 Warning Signs Your Brand Needs to Detox!
Symptoms of fatigue and sluggishness warn us when our bodies are out of balance. But are you savvy to key business signs that show your brand could be suffering a similar malaise? Brands, like bodies, deteriorate with unhealthy choices and too little nourishment. How can you tell when your brand needs detoxing?
To get to grips with this, you need to understand the basic physiology of a brand. Brands reside in consumers' minds. Your brand is built out of all the beliefs and associations that consumers hold about your products and your business. This bundle of perceptions is built up over time, and it will determine how likely consumers are to buy your brand.
Brand perception is fed, for good or ill, by all your marketing communications including: packaging, advertising, website, social media, direct interaction with staff, press coverage, emails, promotions, and printed materials such as brochures etc. Brands living in consumers' minds will be nourished by clear, relevant and motivating communication or toxified by conflicting or ill-judged messages.
Here are 5 key signs that your brand is ready for a detox.
1. You don't know who your brand is for.
How easily can you paint a clear mental picture of your typical consumer? To develop an engaging brand, you need to have a good understanding of the people who use your product. You need to understand both the big stuff (what their needs are, what's important to them) and the little stuff (such as what makes them laugh, what magazines they read). Strong brands are relevant to their audiences; they speak the right language and deliver meaningful benefits. Without consumer insight you are blindfolded. Understanding your consumers better will make your marketing activity fitter, leaner, and more effective.
2. Your consumers aren't engaged
Be very wary of a one-way relationship with your customer base. If you receive little feedback to social media, have below-par email open and click-through rates, struggle to generate interest in promotions, or rarely receive any spontaneous feedback, these could all be important warning signs and a lead indicator of sales trouble ahead. Potential causes of consumer apathy include: overloading them with irrelevant messages, failing to reach the right people at the right time, or simply poor execution; marketing activity that fails to cut through the noise.
In contrast, an active core of brand loyalists is a good sign of a healthy brand. Engaged consumers with strong emotional ties to your brand, will act as advocates, recommending your products to others. Rejuvenate your marketing plan with a focus on engaging and mobilising your consumer base.
3. You haven't nailed your brand's most important benefit
Perhaps your brand has an impressively long list of features and benefits. It is not easy however, to embed many different benefits into busy consumer's minds with a scattergun approach. For much better results, take aim with your brand's most powerful, top-level benefit. For example a mobile phone will have 100's of features and benefits that might include: a faster loading camera, battery that won't let you down, hands-free use with voice control etc. But focusing the marketing on a single benefit that emerges from all of these – such as 'living in the moment' – will be far more successful.
4. Your staff can't articulate what your brand stands for.
This is a great litmus test for brand health. Your staff are exposed to all your brand marketing. If staff can't give a coherent answer to 'what is your brand about?', consumers will definitely struggle! One of the main pillars of good brand management is clarity. If your brand has become confused through poor communications, then it is time to get back to basics and detox your marketing approach.
5. Your branding is not consistent.
Lay out all your visual representations of your brand i.e. packaging, brochures, website, flyer, brochures, website, everything. Is the branding consistent and harmonious, or viewed altogether does it give you a headache? Over time, it can be easy to get cast adrift with minor logo variations creeping in, colourways and fonts wandering off in various directions. What about the tone of voice? Are all the materials written in the same style or is a bit of split personality showing through? If you want consumers to really believe in your brand, you need to present a reliable face. Detox your branding by capturing some simple brand style rules and then sticking to them fanatically.
In business, as in life, we all need to take stock and invest a little time and effort in regaining good health every so often. Use these 5 warning signs to recognise when a brand detox would be beneficial. Remember that brand perceptions live in consumers' minds; a diet of good marketing communications will sustain your brand to keep it pure, fit and healthy!